Motorola, Microvision to develop mini projectors for mobile devices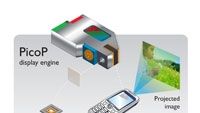 Motorola and Microvision recently announced a partnership to develop pico projector display solutions for mobile applications, allowing content from mobile device screens to be displayed on a wall, object or a curved surface.
The solutions will incorporate Microvision's PicoP, a miniature laser-based projector that produces laptop-sized high-resolution images and can be embedded directly into a mobile device. The projection version of the company's Integrated Photonics Module (IPM), it uses spectrally pure lasers to create high-quality imagery that can remain in focus even on curved surfaces.
The two companies are currently working on the integration of the latest version of the PicoP inside a functioning mobile handset for demonstration purposes. The prototype handset will use Microvision's new, WVGA 854- x 480-color-pixel, wide-angle scanner.
For more information, visit www.microvision.com and www.motorola.com.