Sony introduces new LCD video reference monitor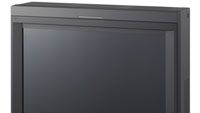 Sony introduced the BVM-L230 LCD video reference monitor as part of a new generation of professional master monitoring technology at NAB2007.
The 22.5in monitor combines a new full-resolution LCD panel, a newly developed high-precision backlight system and a display engine that's been in development for several years.
The new LCD panel has a 10-bit driver and is capable of producing 1024 levels of gray scale, making it well suited for high-end monitoring applications.
The new monitor series uses Sony's TRIMASTER technology, which is designed to maximize the performance of professional flat-panel displays and deliver higher levels of color accuracy and color reproduction, precision imaging and quality picture consistency.
The BVM-L230 monitor incorporates TRIMASTER technologies like a newly developed wide-color gamut panel, color management system, full HD resolution (1920 x 1080), high gray-scale gradation, motion picture response, precision signal processing and calibration and feedback system.
For more information, visit www.sony.com/broadcast.