Jampro RCPU delivers fast RF signal path redirection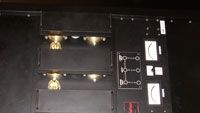 The new Jampro RCPU is a quick-release patch panel with solid connections and low insertion loss.
A positive lock mechanism assures quick, easy redirections of RF signal paths. The RCPU is well-suited for patching RF feeds to an emergency antenna, alternate main/auxiliary transmitters, filter bypass, master station combiner reroutes and test point insertions.
The patch panel requires no tools to make patches and comes in several sizes with an optional signal-flow indicator panel, dual-line power splitter or power measuring VSWR.
For more information, visit: www.jampro.com.