Has Remote Production Changed Production… Forever?
"It's taken a pandemic to open the eyes of those not convinced about remote working. Our collective experience will change way we work forever."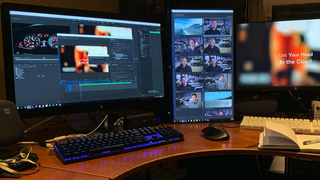 (Image credit: Editshare)
As production gradually resumes, the requirement for teams to work "together apart" will remain fundamental and not just for the immediate future. Beyond short-term social distancing, the pandemic will permanently shift workflows away from centralized organization to the flexible aggregation of resources and talent located anywhere in the globe.
The enforced experiment that the entire creative industries sector has taken part in has led to a revelation about how remote distributed workflows are perceived, with long lasting impact on business culture and economics.
WHAT HAPPENS NOW/NEXT?
"There will be positive consequences resulting from production lockdown," contends Chuck Parker, CEO at Sohonet (opens in new tab). "Chief among these will be an enlightened attitude in Hollywood and beyond to the practicality and benefits of a distributed content-production workforce."
Michele Sciolette, Cinesite Group (opens in new tab) CTO, says, "The one aspect that will be a permanent and critical change is the clear understanding that remote VFX and feature animation production is possible."
For a lot of people in the industry, he adds, this was not an obvious assumption. "But today we know, with a direct first-hand experience, that remote production is possible while maintaining a high level of productivity."
Filmmaker Hasraf Dulull ("The Beyond") is just as blunt: "It's taken a pandemic to open the eyes of those not convinced about remote working. Our collective experience will change way we work forever."
Media tech analyst Futuresource Consulting (opens in new tab) thinks it unlikely we will see an overnight revolution in the adoption of cloud-based and IP workflows, but agrees that the enforced experience will undoubtedly have altered attitudes and help to further accelerate the tech's ongoing adoption. "In the context of coronavirus, the definition of 'remote production' has fundamentally changed," explains analyst Chris Evans.
PLUS: Spectrum Newsrooms Go Remote With Virtual Desktop, High Speed Network
Previously, it was typically used in reference to the remote integration model (REMI) workflow, a means to take audio and video signals from a venue to a production gallery off-site enabling crew to perform operations from different geographies. Now, throughout the content supply chain, companies have been mobilized to create working practices that not only involve virtualization, but where possible, can allow every individual to work remotely.
In the mid- to long-term, Futuresource expects to see more interest in larger facilities that are built with distributed architectures that can support this style of working. This, it says, will result in the consolidation of equipment to serve a potentially more fragmented workforce across more locations.
"The design of new facilities will take into consideration how dependent they are on on-premise operation and the level of contingency that is built in to allow complete remote operation if needed," says Evans.
INTO THE CLOUD
VPN and cloud remote workflow solutions have been available for several years. Most people pre-COVID-19 were still working inside of brick-and-mortar facilities at workstations leveraging a local storage network.
"COVID-19 has forced everyone to explore remote technology options and they've seen that it does enable reliable workflows at low latency so much so that many would have a hard time telling the difference [between SAN and cloud/VPN]," says Ray Thompson, director of market solutions, broadcast and media, Avid (opens in new tab). Avid's own Edit on Demand (opens in new tab) cloud-based service running on Azure has "exploded" in demand since the beginning of the outbreak.
"Beyond the benefit of spinning up resources in the cloud and spinning down when the project's over there are a host of other advantages from a collaboration and operational standpoint that we've never truly had a chance to prove until now," Thompson says.
The option to spin up an environment to fit the requirements of a particular project and then reconfigure it for the next project could be a game changer.
"The short-term nature of many projects—a pilot or one-time event—add to the desirability of being able to quickly turn on and then turn off the whole production environment without having to make any capital investment," agrees Stephen Tallamy, CTO, EditShare (opens in new tab).
Such virtualization fits a wider trend that will see the physical aspect of production fade into the infrastructure.
"In the same way that we don't have to go to a specific clock to tell the time, we won't have to go to a specific place for postproduction," Tallamy says. "We'll still have our favorite tools available to us, but they'll run virtually, somewhere: smoothly and productively.
"If the experience of work is as good wherever you are, then, if you can avoid wasted hours commuting, then this way of working is practically inevitable. It will probably be faster and more productive, too."
THE REALITIES OF WFH
There are mixed reports on quite how successful working from home has been. There's relief that many workflows have been successfully transplanted from office to home, but dig deeper and there are crunch issues yet to be solved.
Pre-COVID, 46% of the VFX industry revealed they did not have a work-from-home policy or technology in place, according to research by U.K. VFX reseller Escape Technology. However, over half of the same respondents said they could now sustain remote working for eight months to a year, showcasing how quickly such methods have been embraced from the top.
According to Sciolette, some staff at Cinesite—particularly from its support teams—clearly suggest that the lack of frequent interruptions has made them more productive from home.
"Simple day-to-day practices such as quickly checking somebody else's monitor or reviewing shots together are possible in a remote environment but not as easy," he says.
PLUS: CNBC's Coronavirus Setup Sprang from Careful Planning
Remote workstations inevitably mean a slight delay in interactivity combined with additional compression applied to the workstation output.
"Tasks that require a very fine level of interaction such as painting, sculpting are particularly affected," Sciolette says. "In addition, editorial work with its need for frame accurate audio/video synchronization is harder than it would be directly sitting on the workstation. Final approvals of shots are also harder than it would be if we were sitting in our digital cinema."
A remote collaboration tool like Evercast (opens in new tab) or Sohonet's ClearView Flex (opens in new tab) can be used to invite colleagues to a secure live stream. You could perform a live edit session or review and approve in real-time with over the shoulder instruction like "back up two frames," "cut this," "tweak that," as near as you would in a suite.
"KVM and remote desktop tools are an aid to access workstations offsite, but where these solutions fall short in terms of latency or image fidelity more sophisticated networking is required," Evans says. "Working with uncompressed video, especially at high bitrates and resolutions also presents a challenge."
It's not unusual for colorists to take home their project on [Blackmagic Design DaVinci] Resolve (opens in new tab) or [Filmlight] Baselight (opens in new tab), but the catch now is that "critical review" quality output is not yet possible from any cloud tool (though many industry players are working hard to solve this).
Restrictive home bandwidth and inability to tightly calibrate individual monitors make SDR color grade reviews tricky, let alone HDR passes.
"Personally, I like having all my team around me," reports Steven Bodner, supervising colorist, Light Iron (opens in new tab) NYC. "I find it a lot easier to collaborate and get things done with my regular team in adjacent rooms. Right now, everything is a lot slower simply because every interaction requires a videoconference of phone call. I find it hard to see how anything I am doing now from home will be permanent."
SECURING ASSETS
Security remains by far the main impediment to future remote working.
"Studios responded very quickly to the exceptional circumstances we faced by allowing our team to be remote as long as we met a few key criteria," Sciolette explains. "As things return to normality, I hope that, as an industry, we will be able to establish some general guidelines for what a secure remote work setup is and continue to support it. We now know it is possible. We need an industry wide effort to standardize on what is a long-term acceptable setup from a security standpoint."
According to Katie Fellion, head of business development, Light Iron, it was security fears at studio level rather than technology issues that put the biggest brake on remote workflows pre-pandemic. "The risk was perceived too great to enable that sort of work but now the floodgates are open.
"The reasoning that we can't work remotely because of security—well, those rules are torn up. Until the industry sees a large security breach, I think we will move increasingly toward opportunities for more global internet connected collaboration."
None of this will eliminate the facility, stresses Fellion. "Some parts of the process are easier to do in a room when sitting next to somebody."
Outside of a select number of directors, few creatives will have home theaters let alone ones spec'd to the highest picture levels. Audio mixing spaces simply don't exist in home environments.
"The advantages of a cloud-based infrastructure will become more relevant in future if we have the flexibility to adopt a hybrid model where we can complement our local core team with additional team members working remotely," Sciolette says. "In this case, a more dynamic cloud-based infrastructure would give us the flexibility to scale up for short time in order to meet peaks in our workload."
The cost efficiencies and carbon savings of remote working will play into the need to reduce budgets for a financially traumatized industry. Approximately 30% of a film's budget is associated with travel, according to Sohonet.
"Before COVID, remote collaboration was seen as a necessity for an overbooked director or the prerogative of a key creative to have review and approval dialed in to their location," says Parker.
"Post-pandemic, it will become the norm for any member of production—from director and VFX supervisor to editor—to do more of their work together from where they live, reducing costs and improving speed and agility."
Avid's Thompson also predicts a more distributed production workforce resulting from lockdown. "People's experience with cloud is that it is really solid and overwhelmingly positive. It will open up the ability for producers and post-producers to leverage talent that lives anywhere."
Dulull remote produced animated sci-fi short "Battlesuit" in London with just two other crew during lockdown.
"People will realize that you can produce cine-quality animation without the need for huge studio spaces or large teams or expensive rendering," he says.
"I can see a future where real-time filmmaking is going to unleash a wave of new and fresh stories that not only feel big but are full of imagination and ideas that were previously deemed too risky and expensive to do."
THE VIRTUAL VIBE
Working remotely is all about flexibility. Being able to draw on talent wherever it is located gives productions flexibility to adapt to changing circumstances, from a world pandemic to a minor clash in production schedules.
"There is a global pool of talent that can help a production work around the clock if required, or bring an entirely different element of creativity born from rich local cultures," says Tallamy. "Technology plays a key role in making that a reality, to make it seamless to share content between remote locations, avoiding conflicts in editing, to providing low latency streaming experiences that allow creatives just allow their work to flow naturally."
He adds, "One thing we have not yet found a technology solution for is how to build a virtual 'vibe'—that intangible benefit you get with people in the same room having the same experience in the same conditions."
There will be some comfort in realizing that nothing will be this hard again. Even if another pandemic surfaces, there will be more robust business continuity workflows in place.
The technology and the artists working under lockdown are now battle hardened in trial and error. Going back to a "normal" but increasingly remote work environment with access to high bandwidth, professional grade on-premise tools and visiting tech support will seem like… a walk in the park.
This story originally appeared on TVT's sister publication Creative Planet Network (opens in new tab).
Adrian Pennington is a journalist specialising in film and TV production. His work has appeared in The Guardian, RTS Television, Variety, British Cinematographer, Premiere and The Hollywood Reporter. Adrian has edited several publications, co-written a book on stereoscopic 3D and is copywriter of marketing materials for the industry. Follow him @pennington1
The latest product and technology information
Thank you for signing up to TV Tech. You will receive a verification email shortly.
There was a problem. Please refresh the page and try again.