Grass Valley wins Frost & Sullivan Market Leadership Award for switchers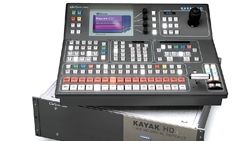 The Grass Valley switcher line, including the KayakDD SD (pictured), received Frost & Sullivan's Market Leadership Award for "World Broadcast Switcher Markets."

Global growth consulting company Frost & Sullivan (F&S) has recognized Grass Valley with its 2005 Market Leadership Award in the category of "World Broadcast Switcher Markets."
F&S said Grass Valley has grown to become "a major player in almost every sphere of the markets in which it operates."
The research firm said Grass Valley is also the leader in each of the sub-market segments, namely production, routing (Trinix and Concerto), and master control (Maestro, and Saturn ) switchers.
This year's award spotlights the Grass Valley switcher line, which includes the Kalypso SD and HD, XtenDD SD and HD and Kayak SD and HD switchers.
Grass Valley's video server technology, specifically the Profile XP Media Platform family of multichannel video servers, was previously recognized in 2001, 2002, 2003 and 2004 with F&S' Market Engineering Leadership Award in the category of "Compressed Broadcasting Market for Video Servers."
For more information, visit http://ww.thomsongrassvalley.com.