Hosa Technology introduces SKO-200 speaker cables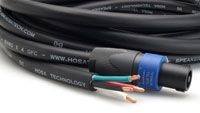 Hosa Technology has introduced its SKO-200 Series speaker cables. Available in lengths from 3ft to 100ft and featuring a wide range of popular terminations, the SKO-200 Series speaker cables are designed to handle the most demanding audio projects.
Designed for biamping and high-current applications, the SKO-200 Series consists of four 12 AWG oxygen-free copper conductors. The result is a robust cable that offers minimum resistance, resulting in superior signal transmission. The cables are cut to 3ft, 5ft, 10ft, 15ft, 20ft, 25ft, 30ft, 50ft, 75ft and 100ft lengths. Standard terminations include four-pole Neutrik Speakon, dual quarter-inch TS (mono phone plugs) and quad banana. Custom terminations are available through select Hosa Technology dealers. Additionally, the SKO-200 Series speaker cable is available in bulk on 200ft spools.