SCTE Cable-Tec Expo: Talent Gap Depends on What You're Doing, Cable Chiefs Say
Comcast's Dave Watson, Liberty Global's Mike Fries offer insights into tech talent needs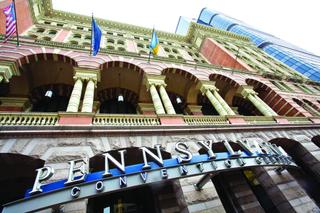 (Image credit: Philadelphia Convention & Visitors Bureau)
While the industry grapples with labor shortages for skilled fiber technicians as incumbents and competitors alike build out massive fiber networks, Comcast Cable CEO Dave Watson and Liberty Global CEO Mike Fries told the opening general session of the SCTE Cable-Tec Expo that the so-called "talent gap" is largely dependent on the projects at hand.
"There is so much activity going on all at once," Watson told a Tuesday audience at the Pennsylvania Convention Center. "Every operator is dealing with not only a significant upgrade to the networks, all mapped out, anticipated to improve multiple assets of connectivity, but there are also new things like new passings. …There's a bit of a crunch in terms of the sheer amount of people needed to pull all of this off."
Watson said providers that are changing their networks, or large components thereof, to virtualize and add capability need a different set of skills.
"It does require that people get trained up on how to do this," Watson said. "Our people are adaptable. The front-line leadership is on their toes, working hard, and they're dealing with all of these changes."
At Liberty Global, which derives about half of its revenue from mobile, the needs are different. Fries said LGI isn't having much trouble finding people with experience in 5G or other mobile tech, but he sees a gap in attracting people who can help the company move into new businesses.
"It's the things we want to do," Fries said. "We need more data experts, we're finding it hard to find people who can help us get us into new revenue streams."
For most cable companies, 10G is one of those new products with the most potential, and it's also one of the main themes of the Cable-Tec Expo. Fries said 10G is the technology he is most excited about because he's already deploying it: Liberty Global has rolled out a 10G product in Switzerland for $50 per month.
Comcast hasn't rolled out 10G yet, but earlier this month it launched a multi-year initiative to bring multi-gig internet to 34 cities by the end of 2025. Comcast intends to eventually put multi-gig service in front of 50 million homes and businesses.
"It really pieces together an efficient and effective network evolution for us," Watson said.
Fries added that the European competitive landscape — he estimated that nearly 100% of Liberty Global's markets will be overbuilt with fiber over the next three years by another company — makes the 10G evolution a necessity for him.
"It's urgent for us," Fries said. "It's not a 'nice to have' — it's life or death."
Both Watson and Fries thanked the tech side of the business for keeping the networks running during the pandemic, a period that put an unprecedented strain on the infrastructure as usage ballooned as most of the country had to work and learn from home.
While both Fries and Watson praised cable for stepping up to the challenge, Fries said the goodwill associated with cable broadband during the pandemic is also an opportunity the industry shouldn't let pass.
"Let's bottle that magic," Fries said. "During that pandemic, not only did we rise to the occasion and our networks did everything that we hoped they would do, we built up a lot better relationship with our consumers, and the businesses we serve, hospitals and regulators and government. That's a special thing we have to hold onto. We've got to build on that. We can't just take that for granted."
This article originally appeared on TV Tech sister brand NextTV.
The latest product and technology information
Thank you for signing up to TV Tech. You will receive a verification email shortly.
There was a problem. Please refresh the page and try again.