TI's DLP Technology to release DLP Pico chipset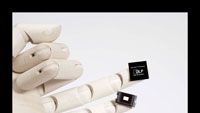 DLP Technology from Texas Instruments (TI) is bringing to market a DLP Pico chipset, which includes an imaging chip and a processor to allow users to project images from handheld devices onto larger screens.
The DLP Pico chipset, which fits directly into a mobile device, will consist of the DLP Pico chip and the DLP Pico processor (DDP1500 and DDP1505). The DPP1500 is targeted at embedded applications for handheld devices, while the DDP1505 will serve the stand-alone handheld companion market. The DLP Pico solution delivers an aperture ratio of more than 92 percent, tens of thousands of pixel elements, switching speeds of less than 20μs and DarkChip native contrast ratio process technology. In addition, the chipset is capable of displaying the widest color gamuts possible with the flexibility to operate with the latest in LED illumination technology.
The chips will be available in the second half of the year.
For more information, visit www.dlp.com.