Euphonix unveils MC Transport for Artist Series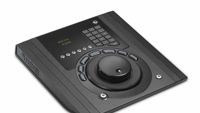 Euphonix has introduced MC Transport, the latest addition to its Artist Series of computer-based audio mixer/controllers. The new model features a high-resolution optical jog wheel, a shuttle ring, programmable soft keys and ergonomic transport controls. MC Transport works seamlessly with other Artist Series surfaces and uses the EuCon control protocol to enable seamless, automated navigation and use of most common digital media applications.
The MC Transport ships with a comprehensive set of preprogrammed soft keys, which are automatically mapped to whatever application is in the foreground, along with the unit's transport controls and numeric keys. The controls are also fully programmable. The jog wheel is ergonomically weighted, while the shuttle ring is spring-loaded with a rubberized surface, enabling smooth, accurate one-hand operation. Seven soft keys comprise the transport controls, and a numeric keypad is integrated to enable easy navigation via time code and marker information. All buttons are programmable, and included Soft Key Editor software allows the edit, save and recall of any desired settings.
The MC Transport connects to any workstation via Ethernet; it can be used either stand-alone or connected to Euphonix MC Mix and/or MC Control devices to create a full-featured integrated control surface. Euphonix has worked with Apple, Steinberg, MOTU and others to deeply integrate native EuCon support for seamless control over almost all software functions. MC Transport also supports the HUI and Mackie Control. MC Transport is expected to ship in June and will be shown along with the entire Euphonix console line in Booth N6812 at the upcoming NAB Show.