KYW-TV opens new headquarters, launches local HD newscasts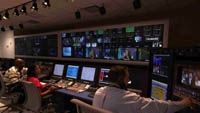 KYW-TV, the CBS owned-and-operated station in Philadelphia, launched local HD news April 2, following the conclusion of the network's telecast of the NCAA Men's Division I Basketball Championship game from Atlanta.
The late edition of the station's nightly broadcast was the on-air debut of KYW-TV's HD broadcast center, part of its new 120,000sq-ft headquarters. It includes two TV studios, each with its own control room to allow for simultaneous broadcasts; a state-of-the-art master control room; an operations center capable of receiving hundreds of satellite feeds a day; and a sixth-floor weather deck for live outdoor weather reports. The new facility, which also is home to WPSG-TV, The CW affiliate, even has a 10,000sq-ft covered ENG garage for seven live news trucks and room enough to allow news crews to pull up their cars to a gear locker to load up sheltered from the weather. Design of the new HD facility began less than a year ago.
The new facility has two new studios. Studio A is a 3200sq-ft studio with a 700sq-ft weather annex, and Studio B is 2700sq ft. Each has its own control room, which mirror each other, built around Sony MVS-8000A production switchers.
Field acquisition is a mixture of native 1080i HD and 16:9 SD, said Rich Paleski, KYW-TV director of engineering and operations. "Anything that's edited is shot with Sony XDCAM HD, brought back to the station and ingested into our (Thomson) Grass Valley Aurora at 75Mb/s," he said. "For any live shots, we'll use 16:9 SD transmitted via our analog microwave transmitter. On the receive end, that's upconverted with our Harris X75 upconverter to 1080i."
At the same time the station was putting its new infrastructure in place for HD news, it also embarked on a tapeless, file-based workflow with shared storage with the Thomson Grass Valley Aurora. "It's been a tremendous change in workflow for everyone on the newsroom staff, the photographers, control room staff, engineering and maintenance staff — everyone involved in the production," he said. "It's been a complete change in workflow and the way they operate." According to the station, the new newsroom, designed by Janson Design Group in New York, is the first in the market to be completely tapeless and HD.
While the project required working late into the night on many occasions and after-hour rehearsals to wring out any unwanted surprises before going live, KYW-TV had lots of help and support from others along the way. Ascent Media in Northvale, NJ, provided design and system integration services, and CBS Television lent its total support to the project.