The Tamuz Black Milan QCM124W LCD Monitor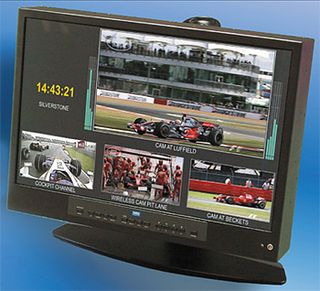 LCD monitors have now been around for decades now. When they first were first introduced, the novelty value was high, but the performance of most was less than optimal. It's true that you could put an LCD display in areas where a CRT was not practical, and the low power consumption was a plus from the very beginning. However, the quality just wasn't really there.

In spite of this, display manufacturers around the world knew there was great potential in the emerging technology. One of those manufacturers is Tamuz, which is located in Henstedt-Ulzberg, Germany. Today, Tamuz offers a complete line of class 1 and class 2 LCD monitors, including one of its latest models, the QCM124W LCD monitor with built-in four channel multiviewer which was selected for this review.

FEATURES

The QCM124W weighs about 23 lbs., has a screen size of 24 inches, and occupies a rack space of 9 RUs. It has an on-board cooling fan, and is housed in a grounded solid-metal chassis. The monitor is powered by a supplied external 12 VDC supply.


The Tamuz Black Milan QCM124W 24-inch monitor with built-in multiviewer There are rear-mounted BNC connectors for four multi-viewer inputs (loop-through configuration). There's also a BNC connector for the regular monitor input, another BNC for time code input, a DB-25 input for tally connections, the 12 VDC power input jack, a USB port for firmware uploads and two RJ-45 connectors for network remote and multiviewer remote respectively.

All system controls are on the front of the unit. These include menu, up/down, plus/minus, lock, setup, full and split. There are also four multiviewer preset buttons. A jack is provided on the front panel for connecting an optional color analyzer probe.

The QCM124W is a hybrid monitor, allowing either a four input multiviewer to be displayed, or a single input full display. The unit accepts composite as well as SD or HD SDI, including most 1080, 720, 576, and 480 line SMPTE standards. Video processing is done in native format, with a pixel resolution of 1920x1200 and a screen resolution of 94 dpi. The screen itself is an active matrix TFT, using ISP technology. The viewing angle is listed as 80 degrees in both horizontal and vertical axes, and the backlight has a predicted lifetime of more than 50,000 hours. Contrast is greater than 800:1, with backlighting is provided by multiple CCF lamps. The screen classification is Grade A, and the aspect ratio is selectable between 16:9 and 4:3 on all inputs. Timecode-referenced clock display, tally, and audio levels (extracted from embedded audio, up to eight channels per input) are all displayed when the unit is in the multi-viewer mode. It supports both dynamic and static under monitor displays. Alignment and calibration are easily accomplished using an optional probe. Delay through the multiviewer is about one frame, and internal ITU-601/R709 video processing is employed.

Multiviewer configuration is easily accomplished using included Windows-based software; however the four factory presets provide the most commonly used configurations.

As an added bonus, a "stream" of the multiviewer output is also available for use on PC monitors, and the QCM124W has on-board proprietary software that can reverse or reduce burn-in associated with static frames common to multiviewers.

IN USE

The QCM124W arrived in a very substantial shipping box, along with an external power supply. After unpacking it, I connected HD-SDI test signals, electing to use these exclusively for the evaluation.

I obtained SMPTE 292 1080i content from our station's my NBC HD rack and fed this to one of the multi-viewer inputs. To my disappointment, no signal appeared on the screen. I then reconnected the cable to the Video 1 input connector.

Immediately a full screen HD picture appeared. The image was bright with pleasing colormetry. After watching the NBC programming for a while, I changed over to color bars originating from one of our LDK-4000 HD studio cameras.

The test pattern looked absolutely textbook perfect. Brightness, contrast, chroma, and phase all looked better than I expected from an LCD monitor. Perhaps I've been hanging around camera venders' NAB booths too much, but I really wanted to see what live HD camera video would look on this monitor, especially originating from a studio environment. When our full compliment of anchors was in place for the next newscast, I was viewing the Tamuz monitor with some degree of excitement. We use Videssence fluorescent lighting in our studio, and with this illuminating our colorful set, the HD display could not have been more impressive. True high-definition monitors are still a little scarce around our studio facility, and because of this, I'm still amazed every time I see native HD video in its purist form.

Fast FactsApplication
Critical HD and SD video display and monitoring

Key Features
Small size, excellent pictures, works with numerous video signal types

Price
MSRP as tested, $10,618. This includes the multiviewer option. Without this, the base price is $6,800. (Other options include an IR remote, desk stand, rack mount and color analyzer probe.)

Contact
Tamuz USA LLC | 908–879-0010 | www.tamuz-usa.com After having evaluated the QCM124W as a single input monitor, I figured it was time to get the multiviewer feature working. It should be noted that as the 2-inch version of the Black Milan multiviewer had just been released, a manual wasn't readily available for the evaluation unit sent me. However, Tamuz is currently in the process of producing a full manual for this monitor.

Using the menu button, I browsed the available features and options available in the menu tree and found that the menus aren't that hard to navigate. The main menus are what you might expect on any monitor: inputs, scaling, image, keyboard, marker, system, search, language, OSD menu and anti-sticking (this produces a slight movement of pixels over time to prevent static images from creating a "burn-like" pattern. Older readers may remember the "orbiter" function used to shift images around on image orthicon camera tubes to prevent "sticking.")

After having connected our three studio cameras to respective HD-SDI multiviewer inputs, and cabled the NBC feed to the fourth. I then attempted to obtain a multiview display.

I selected "input" from the menu and was able to see CCVS, Y/C, CAV, HD-SDI, VGA and HDDL options, but couldn't find anything that directly led me to multiviewer functions. After admitting ignorance to myself, I contacted Tamuz and soon learned that the proper setting for multiviewer operation was through the HDDL selection (High Definition Dual Link). After selecting HDDL, the monitor immediately displayed a proper multiple view showing all four inputs, along with audio metering and a clock display. Using the four preset buttons located on the front of the monitor, I was able to select between four presets for multiview operation. The first preset showed a single, larger display located on top of three smaller displays, with the clock on the right side and a full compliment of audio metering associated with each source window. This view would be my choice for use around a small master control environment, possibly utilizing the larger picture for program and the three smaller screens for other sources. Other preset views include a standard "quad" display; a large display, including audio metering on the side and possible UDM info; and another combination of four monitors, with associated audio metering. I was unable to test the multi-viewer configuration software tool, as the software developers are in the last stages of de-bug. According to the documentation that was provided to me, the application appears to be easy to learn and quite user friendly.

SUMMARY

This is really high performance/high quality monitor that should dispel any previous negative impressions from LCD units offered to broadcasters.

To put things in proper perspective, five years ago Class 2 high-definition monitors of this screen size were selling in the $10,000-15,000 price range and the LCD units out there couldn't really be considered high quality, much less high definition. At a price point of $6,8000 (without the multiviewer option), the Black Milan QCM124W represents a quantum leap in picture monitors for critical viewing applications.

While this unit may not be perfect for every broadcast application, I think it would fit nicely into such key areas as master control rooms, edit suites, remote production trucks, or even newsrooms. (If more inputs are needed, Tamuz offers a 47-inch multiviewer that supports up to 16 inputs)

In short, the Black Milan QCM124W is one of those really superior products that you should plan to use in upcoming projects!

Joey Gill is chief engineer at television station WPSD in Paducah, Ky. He has been with the station for 25 years and has worked in broadcasting since 1977. He may be contacted at respond2jgill@yahoo.com.


The latest product and technology information
Future US's leading brands bring the most important, up-to-date information right to your inbox