A new age for virtual studios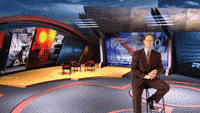 Are you ready for what virtual technology has to offer? Then the advantages of virtual sets may very well be what you're looking for. The virtual model as a production set is moving towards realism like never before. It offers limitless potential, and is quickly becoming an affordable and viable production solution. Soon, say developers, you won't be able to tell a set is virtual.

As virtual technology advances, many broadcasters are beginning to take an interest in the versatility that virtual sets can bring to their productions. Image courtesy Devlin Design Group.

Although virtual is not yet fully embraced as a replacement for the traditional physical set, broadcasters are taking a serious look at the advantages of digital environments. Virtual technology can provide benefits to the new age of television journalism ranging from significantly improved viewer experience to fast, low-cost production.
With early beginnings in flight simulation, and more recently the gaming industry, real-time 3-D simulations have reached a level of realism that is quickly approaching reality. For a long time, virtual just didn't look convincing or real enough for serious and credible content. It always had a pixilated look that some called cartoonish and too surreal. Clean keying was also a constant struggle. Having a blue edge spill around your talent just emphasized the fact that this was a "fake" background. But recently, all this has taken a huge leap towards an increased image quality that may very well revolutionize what we perceive to be "real."
The biggest innovation of late has been the development of pixel and vertex shaders that allow sophisticated real-time effects such as bump mapping, reflections, dynamic lighting and deformations. According to Michael Shea, head of content development at Devlin Design Group, this technology allows effects to be created at the pixel level, freeing artists from the limitations of polygon budgets and texture-only based solutions.
The demand for virtual sets is becoming increasingly noteworthy because the cost of hardware has come down considerably. New graphic processing units (GPUs) are allowing mid-range systems to do what previously only high-end SGI reality engines could handle. This shift in real-time performance on desktop systems has widened the market for virtual set technology. High-end production facilities, smaller post houses and production departments, and even Webcasters are taking an interest in virtual content. Eventually, say some, corporations and schools will follow suit, using the full capabilities of virtual for everything from corporate meetings to online education.
Versatility is one of the most compelling features of the digital world. Imagine having the ability to edit and change a set environment instantly. The use of shared resources for multiple productions also saves time and money. You can create a seemingly large expanse in a relatively small studio space and have a very expensive look by designing set elements such as huge video walls, elevators, rotating platforms and mechanical props like moving monitors and graphic panels. Even real-time stats on sports and elections can be piped into the virtual set, along with remote video of anchors in the field or interviews with distant celebrities. All this is possible in the virtual world.
Multicasting may well be the most practical application for many new network duopolies. As more media companies merge, the possibilities of virtual are even more appealing. Imagine shooting your talent in front of a blue screen and piping the signal to multiple virtual systems with different branding or even an entirely different set. It has already been done right here in the United States.
Understanding that it's very much an integration process of system and content is the first step, and it may not always be as easy as hardware manufacturers would like you to believe. With every new technology comes frustrations — long hours of figuring things out, tweaking, adjusting and modifying. Many think it's a plug-and-play solution, but it's just not there yet. So, be realistic, have patience and think ahead. Even though there are dozens of library sets available for immediate purchase, many need to be optimized or configured for the type of system you have. Content creation specialists can offer the added value of knowing what works in the broadcast environment and how to best design for various systems specifications.
As with any production, have a plan and know how you're going to produce before making the choice to go virtual. If you're going to invest in hardware, software, content and education, make sure you also have a strong desire and willingness to learn and advance in new directions. This is really the only way you'll gain the experience it takes to successfully run a virtual studio.
It is also important to realize the limitations of producing in virtual space. Talent comfort and choreography in the blue room can be an issue. Everything needs to be mapped out and rehearsed. As long as you realize what you're getting into and do your homework, chances are that it will prove to be a great investment down the road.
It still takes tremendous skill and patience to model a realistic-looking virtual set. You not only have to understand 3-D, but also architecture, geometry, lighting, spatial relationships, color, production value and editing. Don't be fooled by systems and software that claim "do-it-yourself virtual." Unless you've had years of advanced graphic developmental experience, you'll be disappointed in the results. If you want a high-end, professional look, let a professional create your environment.
Even though competition in the production industry is fierce and everyone wants the latest, greatest stuff, there's still hesitation over going completely virtual. One solution is to use a hybrid set that is part traditional "hard" set and part blue screen component, allowing for virtual set integration. Many producers are opting for this solution because it allows them to shoot both real and virtual on the same set. For example, hybrid sets can allow newscasters to customize a look with content-specific graphic panels for special segments, breaking news or franchise packages.
WorldNet IBB, a division of Voice of America, recently called on virtual set firm Devlin Design Group for virtual content for producing multiple projects aimed at various nations around the world. On a restricted budget, they needed the ability to change imagery for each show. DDG provided them a Library SoftSet that was customized to their specifications. Once the model is complete, all they'll need to do is insert various images into the environment. Pre-rendered library sets offer fast, reliable choices and allow producers to see what they're getting before they commit to purchase.
This is the perfect opportunity to be a true pioneer because the more virtual set technology comes into use, the more it will advance and continue to flourish.
If you'd like more information about virtual and/or traditional sets, visit www.ddgtv.com.
Kristina Jones is a graphic designer and freelance writer specializing in media matters and design solutions.
Get the TV Tech Newsletter
The professional video industry's #1 source for news, trends and product and tech information. Sign up below.