Verizon Wireless shipping latest mobile TV-capable phone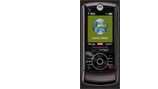 Verizon Wireless last week began offering its latest multimedia phone, the MOTO Z6c from Motorola. The phone features access to Verizon's V CAST mobile TV service, among other capabilities.
The Z6c comes with a 2-megapixel camera, 2in QVGA display and support of up to 4GB of optional removable memory, along with support for stereo Bluetooth wireless technology. The V CAST service includes news, sports and entertainment video clips, as well as access to more than 2.4 million songs that can be purchased and downloaded directly to the phone. Connectivity is available outside the United States for customers traveling within the GSM network coverage area provided by Verizon Wireless' global roaming partners. Domestically, the phone is supported by the company's high-speed CDMA network.
For more information, visit www.verizonwireless.com.