Radamec's Scenario XR next-generation virtual studio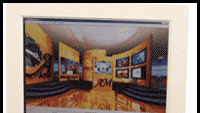 Users interact with the virtual set through an intuitive touch-screen interface that shows the entire set from the director's chosen viewpoint.

The broadcast industry has endured 3-D polygon virtual-set systems since they emerged in 1995. The first systems required high-end computers to render even the most basic of sets. While computers have become faster and costs have fallen slightly over the years, a trade-off still exists between the number of polygons/textures and smooth on-air quality rendering.
Radamec's Scenario-XR requires no such trade-off because it is not a polygon-based virtual set system; it is ray-traced-based, running on a Windows 2000 platform. Ray tracing is a method by which software models light rays as they reflect and refract in a rendered world.
This process can involve billions of floating-point calculations per second and requires considerable processing power. Much of the power of the system is provided by Cross Reality, a robust software kernel supplied by XR Technologies that allows real-time rendering.
The power of ray tracing
Using ray tracing in a virtual set environment yields a high-quality, 360-degree background image. Ray tracing also affords new functions and facilities for the virtual set environment. For example, with polygon-based systems, using features such as Perspex flooring or special paint could reflect the image of the human presenter in the floor, but could not do the same for graphics and live video feeds inserted upstream. Such reflecting was heretofore impossible. But, because the Scenario-XR accepts any SDI video source or graphic to be inserted in the virtual set, it treats such images as dynamic textures and reflects them in real time in any reflective surface of the set. By the same process, the system can refract inserts dynamically through glass objects in the set. Similarly, it can fade panels to become transparent windows, revealing objects in the set that were not previously visible.
The system imports set designs from the 3D Studio Max package. Future plug-ins will add other popular applications such as Maya, SoftImage and others. The system then produces a rendered set that allows inclusion of live elements from internal or external sources while providing a fully ray-traced, live output.
Another advantage of the system is that it allows sets and shows to be stored on and recalled from internal or network disk(s). It also can hold graphical inserts, so multiple still stores are no longer required. The SDI video input obviates external DVEs and keyers for inserting live pictures.
XR's Cross Reality technology also allows the user to insert and interact with MPEG streams and external applications like HTML, PowerPoint and other Windows applications in real time. The technology can map applications fully into the virtual set, retaining the ability to interact in the new perspective.
Nuts and bolts
Each camera in the studio requires a dedicated hardware/software system, called a Scenario-XR unit (XRU), that creates a view, and offers a preview, for every camera. This hardware/software system includes a Radamec-commissioned Windows 2000 workstation that can operate either as a stand-alone or in conjunction with the XR control unit (XRCU). Each individual XRU communicates with the XRCU through standard COM1 RS-232 data channels. The company recommends the XRCU option for multiple-camera studios.
The XRU system consists of a broadcast-optimized, high-end video graphics accelerator, an industry-compliant video/key I/O module, and the dongle-protected licensed XR core software. Also included is a high-end graphics accelerator with 416MB of total onboard memory, as well as the following features:
Up to 32 lights accelerated in hardware
Dual DVI support
Genlock input
16 sample SuperScene anti-aliasing and 3-D volumetric texturing
Support for new OpenGL 1.3 and OpenML 1.0 specifications
Support for DirectX 7.0
The system allows fading and wiping between all cameras, similar to the company's established virtual-set system. Since each camera's package operates independently, there is no single point of failure.
Operator interface and control
Users interact with the virtual set through an intuitive touch-screen interface that shows the entire set from the director's chosen viewpoint. Loading and altering the inserts in the set from the control panel automatically changes the relevant objects in all of the cameras' viewpoints. Selectable parameters include source and destination of inserts, object color, luminosity, reflectivity and transparency. Users can save and recall these settings as a simultaneous cut or fade (duration selectable), so the entire studio appearance can change smoothly and professionally on-air.
The touch screen is accompanied by an operator's control panel. The panel is a means to cut or fade from one source to another for a particular insert in the set. The operator simply touches the insert to be changed and the new source is then selectable on the panel. A new source can also be pre-selected so it is ready to be cut or faded into the set with a single key press. The touchscreen highlights the preview and program sources, so the operator knows what source is ready to appear in the set.
Operational features of the control panel itself include:
Joystick navigation of director's view of virtual set
Source-selection bus (live video, stills, animations, reveal)
Pre-set source-selection bus (used for fading between sources)
Fade-time select slider
Camera-selection buttons for rotate-set function
Rotary encoder for rotating the virtual set
X-mem bank for settings storage and recall as either a cut or a fade
Store button for X-mem bank
The company believes that its experience in virtual studios has led to a design that addresses the production studios' requirements of quality, speed, simplicity and power. It also feels that the Cross Reality kernel to Scenario XR provides rendering quality previously unavailable, at a cost that will allow broadcasters and production companies to make virtual programs and to receive returns on their investment.
James Oliver is a product manager at Radamec.
The latest product and technology information
Future US's leading brands bring the most important, up-to-date information right to your inbox