Your Guide to the Latest Industry Webcasts
By TVT Staff
What webcasts are on the docket?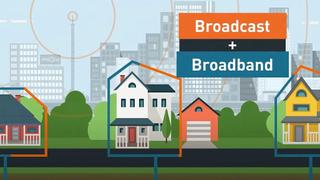 (Image credit: ATSC)
UPDATED 6/17: Whether it is a detailed presentation for a new product or a deep dive into an industry hot topic, webcasts are great ways to learn about what's new and exciting in the broadcast industry. Here is an overview of upcoming webcasts and how to access them.
SRT InterOp Plugfest
June 21-25
SRT, the open-source initiative dedicated to overcoming the challenges of low-latency video streaming will hold this year's SRT InterOp Plugfest the week of June 21 The annual event will kick off with a webinar featuring a special guest speaker from AWS Elemental, at 11am EST/5pm CET on June 21. Click here to register.
Streaming to the Big Screen: Delivering Content to Smart TVs (IBC)
June 23
Today's audiences can choose between a multitude of streaming services and ways of watching content. To be successful, content owners and operators need to ensure that they can deliver a seamless and engaging viewing experience across any device. In this webinar, IBC365 will be joined by renowned experts to discuss getting the best out of smart TVs, set-top boxes and other devices. Click here to register.
Telos Infinity VIP Virtual Intercom Platform
June 23
Telos Alliance will introduce the Telos Infinity VIP Virtual Intercom Platform in an informative, demo-driven, one-hour webinar. Click here to register
The State of NDI
June 24
A look at the the future of IP-based video production workflows, coming to NDI including v4.5 released earlier this year. Click here to register.
Pride TV Summit
June 25
Pride TV Summit provides a unique opportunity to explore recent advances in the evolution of television's LGBTQ+ characters and storylines, the growing acceptance of LGBTQ+ characters and storylines by multiple, diverse audience segments, and the impact that LGBTQ+ staffing is having within the ranks of today's business of television media. To register, click here.
SMPTE Introduction to the Virtual Production Initiative
June 29
In this webcast, SMPTE presents the first of its Rapid Industry Solutions, focused on developing the tools to understand and implement this convergence of technologies. An advisory group assembled from a wide cross-section of large and small companies working in Virtual Production, non-profit and special interest associations, and the global academic community will address hurdles like interoperability and connectivity, lack of resources and a gap in education. The results, including interoperability guidelines, benchmarks, workflows, naming conventions and technical solutions, will benefit creative and technical individuals and organizations in hardware, software and every type of service. And all technical work resulting from the Virtual Production Initiative will be open and free to the industry. Click here to register.
SMPTE: How to Deploy UHD 
June 30
The UltraHD Forum is an open forum composed of a broad range of participants from the movie and television ecosystem with a mission to support the roll out of UltraHD services. As part of that mission, the Guidelines Working Group has developed a compendium of technical information on the best practice implementations of UHD workflows and technologies. During this presentation, we will have the experts describe what is in the Guidelines and why this information is vital to any organization implementing or thinking of implementing an UltraHD service. Click here to register.
SMPTE Quarterly Standards Webcast
July 1
SMPTE's quarterly update on the work of its standards community will feature an educational update on the work of their close partner organization, the Audio Engineering Society (AES). This update marks 12 months of Virtual SMPTE plenaries and 6 months of working on their new SMPTE Knowledge Network toolset. Click here to register.
IEEE BTS PULSE
July 13-15
This 3-day virtual event will cover radio content delivery, ATSC 3.0 and codec advances. Click here to register.
SMPTE 2021 Annual Technical Conference
Nov. 9-18
The SMPTE Annual Technical Conference is the world's premier peer-reviewed forum for the exploration of media and entertainment technology. The 2021 conference will be a virtual event with technical paper presentations delivered via prerecorded video. Click here to register.
The latest product and technology information
Future US's leading brands bring the most important, up-to-date information right to your inbox
Thank you for signing up to TV Tech. You will receive a verification email shortly.
There was a problem. Please refresh the page and try again.