Grass Valley unveils Kayenne Video Production Center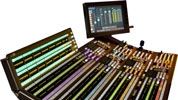 Grass Valley at the NAB Show introduced the Kayenne Video Production Center, a production switcher family that integrates features from the Kalypso and Kayak models and adds advances to enable greater creativity and streamline production workflow for HD projects.
Among the innovations are six keyers per M/E; 20 channels of DPM, including a four-channel eDPM with two combiner outputs; source rules that associate keys with a source; a device control module with jog wheel interacting with its Q-MEM cue library; and defined E-MEM providing finer control of E-MEM effects.
Offering up to 96 inputs and 48 outputs in a single frame, Kayenne offers from 1.5 to 4.5 mix effects. A half M/E with six linear/luminance keyers is standard. Kayenne's modular control panel provides instant access to its features.