Neutrik introduces opticalCON QUAD at NAB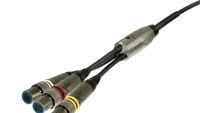 At NAB, Neutrik introduced opticalCON QUAD, a four-channel version of its ruggedized fiber-optic connector system. Designed for multichannel point-to-point cabling applications, opticalCON QUAD is IP65 rated for protection from dust and water jets. Three variations are offered: four-channel, four-channel X-treme and a triple-split 12-channel assembly. The system features easy-to-clean LC connectors and has a push-pull locking mechanism and colored labeling plates to identify the fiber mode.
Neutrik opticalCON QUAD is available with either four-channel NKO4M or 12-channel NKO12S field cables. The triple-split 12-channel cable features three opticalCON-4 connectors on both ends, allowing standardized four-channel connectivity for multichannel point-to-point cabling. The opticalCON QUAD X-treme is designed for mobile and outdoor broadcasts, with a cut-proof and rodent-resistant double jacket and glass yarn armored cable construction. It features a new chassis connector (NO4FDW-R) with a laser protective metal shutter seal and two-component rubber gasket.
The system is based on a ruggedized version of the standard optical LC-Duplex connection, enabling up to four copper wires to run power or data signals. For simplified installation, one can connect a conventional LC connector on the rear, which causes the chassis connector to act as a feed through. The opticalCON cable connector comes preassembled with a choice of three mobile field cables, and can be ordered at almost any length.