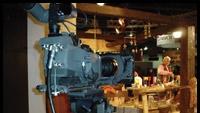 This year's 2003 NAB provided some interesting camera offerings. The products that brought the most attendee interest belonged to the low-end (DV) and the high-end (high-definition) portions of the market.

The Viper Filmstream camera was among the products shown at the Thomson Grass Valley booth.

Sony's biggest news was its new Professional Optical Disc system. This Pick Hit-award-winning product line includes a camcorder as well as three decks, featuring a full complement of analog and digital I/O, and IEEE 1394. The optical disks have a capacity of 23GB and can withstand up to 1000 write/rewrite passes. Sony also joins the 4:4:4 dual-link technology wave with its Pick Hit-award-winning expansion of the Cine Alta family. The additions to the family include a new camera, portable and studio versions of 4:4:4 SR recorders, and specially formulated BCT-SR series videocassettes. The new HDC-F950 camera offers HD outputs at 4:4:4 or 4:2:2. The new SRW-5000 studio recorder and the SRW-1 field recorder feature MPEG-4 compression to capture the full common-image format resolution of 1920×1080 pixels.
A new lower-cost studio camera, the HDC-910, uses a lower-cost HD CCD image sensor. This camera offers a producer the ability to capture high-definition images at costs similar to current high-quality, standard-definition products.
The HDVF-C30W 2.7-inch high-resolution color viewfinder offers mounting options at the traditional viewfinder location or at the rear of the camera. It is available with or without an eyepiece, and can be used on all Sony HD cameras.
Sony upgraded the popular DSR-370 camera to the DSR-380 camera, with PowerHAD CCDs, offering 800 lines of resolution, 65dB signal-to-noise ratio, 0.4 lux minimum illumination and -115dB smear. The new DXC-D50 camera offers PowerHAD EX CCDs with 12-bit A/D, 30-bit DSP technology and -140dB smear. The CCU-D50 also was shown with two new RCP remote panels.
Panasonic introduced evolving RAM-recording technology with a camera demonstration using PCMCIA RAM cards instead of tape or disk to record images. The solid-state memory DVCPRO camcorder won a Pick Hit award and promises to be an exciting technology that will demand the industry's attention as it matures.
Panasonic's introduction of 24p recording to the miniDV world made quite a splash, as evidenced by the crowds of NAB attendees hovering around these exhibits. The AG-DVX100 supports 480i/60, 480p/24 and 480p/30 images and offers two XLR audio inputs with auto or manual audio levels. The AG-DVC80 offers features similar to the DVX1000 without 24p images. The company also introduced the AG-DVC7 camera in a larger DV camera package.
The AJ-SDX900 is a native 16:9 camera providing 24p/30p/60i recording at 480 lines with 25- or 50Mb/s recording with the onboard DVCPRO recorder. It offers GPS metadata capabilities, an SD memory card for storing settings and a 15-second cache recorder.
Thomson Grass Valley introduced the LDK 200 ITW camera, a standard-definition camera based on a new IT sensor that features a low smear rating of -140dB. It is a dockable camera based on the familiar LDK 200 footprint.
Thomson Grass Valley also displayed the Viper Filmstream camera with a variety of third-party integrations, including solid-state dual-link recording, fiber-optic cable interfaces and an Angenieux optical viewfinder.
Hitachi introduced its new Z4000W camera with 16:9/4:3 standard definition, featuring 530k sensors, 12-bit A/D, 38-bit digital signal processing and 360-degree skin-tone-detail circuitry. The SK888 upgrades to 1050k-pixel IT CCDs offering 800 lines of resolution and a sensitivity of 2000 lux at f11.
A new box camera, the HVD30P, is one of the smallest box cameras available. It uses 1/3-inch CCDs with a minimum sensitivity of 0.9 lux and 12-bit A/D.
Offering HD recording on a miniDV tape, JVC's new JY-HD10U camcorder can record 720/30p, 16:9 images and 480/60p, 4:3 images in MPEG-2. Based on a single 1/3-inch, 1.18-megapixel progressive CCD, this Pick Hit-award-winning camcorder also features XLR microphone inputs, audio levels in the viewfinder and color bars. It is available with a PC application as well as plug-ins for Adobe Premier to allow editing of the HD MPEG images.
Ikegami offered the HDK-79EX, a new compact HD camera boasting a 30 percent smaller footprint than the HDK-79E. It uses 2.2-million-pixel, 2/3-inch FIT CCDs with 12-bit A/D conversion and 38-bit digital processing. It provides 1080i or 480i as standard outputs and optional 720p/480p outputs. It has 1000 lines of horizontal resolution with a S/N of 56dB.
The standard-definition HL-60W is a three-chip, AIT CCD-based camera with 520k-pixel sensors. It has a sensitivity of f11 at 2000 lux, 67dB signal-to-noise ratio and a modulation depth of 75 percent.
New box cameras include the HDL-20 HDTV designed for POV applications such as helicopter gyroscopes, industrial and other applications that require a compact camera. It uses three 2/3-inch, 2.2-million-pixel CCDs with 1080i output of 1000 TV lines of resolution.
Camera stabilization
Sachtler's Artemis EFP and EFP Pro camera-stabilization systems won a Pick Hit. The new Artemis Cine/HD utilizes a modular construction that allows it to be used with different cameras. Its design features a 180∞ pivoting battery backpack, allowing different battery positions for different operation modes.
Image-sensor technology
Rockwell Scientific showed its new CMOS imaging device, which consumes only about 20 percent as much power as its CCD counterpart, while offering similar or improved picture quality at a reduced sensitivity of one f stop. CMOS technology will allow manufacturers to produce imaging chips on standard chip production lines rather than by the specialized manufacturing processes currently required by traditional CCD technology.
JVC and Ikegami previewed HD box cameras that employed CMOS sensors, and Dalsa had its first public showing of its prototype HD camera designed for high-end film replacement. The Dalsa Origin camera features a new CMOS 4k × 2k image sensor the size of current 35mm film frames, offering four times the resolution of current 2/3-inch sensors. It also has an optical viewfinder, and a form factor more like a traditional film camera than a television camera.
Dan Stark is president of Stark Raving Solutions.
The latest product and technology information
Future US's leading brands bring the most important, up-to-date information right to your inbox