NAB Honors Sterling Davis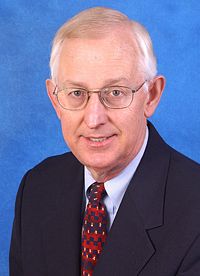 Sterling DavisLAS VEGAS
Sterling Davis, recipient of this year's NAB Television Engineering Achievement Award is a long time veteran of the broadcast business, with more than four decades of service. Currently the vice president of engineering for Atlanta-based Cox Broadcasting, Davis provides technical oversight of both the company's 15 television and 86 radio stations.

Davis began his career as an audio engineer for the ABC network and was then with KTTV in Los Angeles for five years. Following three years as operations manager for the Vidtronics Company, he returned to KTTV as chief engineer. In 1982, he joined Cox Broadcasting's VU in Oakland as director of operations and was promoted to vice president of engineering for Cox Broadcasting in 1998.

Davis has helped lead Cox stations into the digital age and is particularly active in broadcast organizations, including the ATSC, SMPTE, RTNDA, AES, IEEE and SBE, as well as chairing the technical activities group of the Open Mobile Video Coalition. He is also currently chair of MSTV's Engineering Committee.

TV Technology talked with Davis on the eve of the NAB Show to discuss where the industry has been, where it's going and the challenges that lie ahead.

TV TECHNOLOGY: We're in the home stretch of the digital transition. What are your thoughts about how it's been handled?
DAVIS: I think we've done fairly well. Ten years ago when this thing got started, most people predicted this kind of scenario at the end. I'm not surprised at the political endgame going on in Washington. Considering that you've got a wide range of broadcasters—all the way from big stations in large markets down to mom and pop oprations—it's not done too badly considering the wide diverse group of people.

TV TECHNOLOGY: Did you agree with the extension?
DAVIS: No, but I'm speaking technologically here, not politically. Everybody lined up when the date got set a couple years ago, got all the schedules in place, their budgets lined up, all their vendors lined up, everybody got their assembly lines finetuned over the last two years. To throw a wrench into it at the last minute is a mess.

TV TECHNOLOGY: How many Cox stations have turned off their signal?
DAVIS: 5 out of 15. Those were all non-network stations.

TV TECHNOLOGY: What were the reactions?
DAVIS: No reaction. I'm a guy who hears about problems and I haven't heard any. We have one NBC affiliate that's shutting off in April but there's an onerous burden on the station to do things over the air in order to do that. It's in a small market with only two stations.

TV TECHNOLOGY: Did Cox have any particular unique issues in dealing with the shutdown?
DAVIS: We have a wide range of stations in a wide range of markets in various conditions and I think that's true of most broadcast groups. The most problematic is Mt. Sutro in San Francisco, but then there was a simple situation in Pittsburgh where they bought a combination antenna and when they put it up—it was just a matter of flipping the switch on analog.

TV TECHNOLOGY: What are the biggest challenges facing broadcasters right now?
DAVIS: The biggest challenge is transitioning to a different updated business model without letting go of the one that's working currently—or not working quite as well as it used to. Free over the air advertiser-supported television is good and it will continue to be pretty good. The question is, in the future are there other ways to make money in broadcasting other than that model? It's not really a transition, it's really an addition for broadcasters.

TV TECHNOLOGY: How has the role of the broadcast engineer evolved since you started in this business?
DAVIS: It's mostly an IT-type position. Everything is done with packets and bits, routing and so on. Even on Internet protocol, television is all done in packets. The biggest transition is the transition to digital. Traditionally, engineers were trained to make adjustments to analog variations and things warmed up, cooled down, drifted, needed to be calibrated. All of that's gone in the main of broadcasting, and now it's all digitally controlled, self regulating and done via LANs and networks. That's the biggest change.

TV TECHNOLOGY: You have a somewhat unique position in that you head up both radio and TV divisions at Cox. Can you give us an assessment of where you think radio and television are in their respective approaches to digital technology?
DAVIS: I don't see a whole lot of difference. Inside our company, I kinda use radio as a model for television. To some degree radio is ahead just because of the bandwidth issues and radio has been doing digital studios for a long time.

TV TECHNOLOGY: So it's your opinion that radio is further along in the use of digital technology?
DAVIS: Yes. In the studios everything runs off of servers and has been for 10 years. There's no tape in the studios anymore, everything is done without any visible means of transport. So it's become a lot simpler for low-tech people to work in radio—from on-air talent doing production work; it's all been done in the digital realm in radio for some time. Also radio stations in general have multiple stations in a market, six or seven stations in a market, so multichannel has been underway for a long time.

TV TECHNOLOGY: What do you think of the future of HD radio?
DAVIS: I think it will succeed. I think it needs to succeed to keep radio valid in the future, otherwise—and I'm paraphrasing someone's comment—'you'll be an analog archipelago in a digital sea.' Everything out there is digital and if you broadcast in digital, you have a leg up—and it also opens up additional opportunities in business. It's exactly like TV in that sense. It's just going to be a longer transition because they're still making analog radios and will for the foreseeable future. There's no end date mandated by the government.

TV TECHNOLOGY: Can HDTV and multicast co-exist?
DAVIS: It's driven by the business. The more bits you devote to hi-def the better it looks. Some broadcasters squeeze in another SD channel along with the HD video and it looks pretty good. OTA TV can survive with both business models relatively well. Reducing the bits on HD is nothing compared to what cable and satellite systems do with the HD stuff that broadcasters put out anyhow. Even when broadcasters are running additional channels with HD, it still looks better than on cable and satellite.

TV TECHNOLOGY: How important is mobile capability to the future of broadcast?
DAVIS: I think it's key. I think that broadcast is designed to be wireless—the one to many model—and that's what works right now and as more and more HD services gravitate to wired and satellite type delivery systems, I think mobile is going to be much more ubiquitous than fixed television sets in the future. I wouldn't say it's broadcasting's savior but it will prop up broadcasting in the future.

TV TECHNOLOGY: Are any of the Cox stations early adopters?
DAVIS: We've offered up 5 stations to start this year.

TV TECHNOLOGY: How is Cox handling the downturn in the economy right now?
DAVIS: From a business point of view, it's 'hunker down' and get by with as little cost as you possibly can for right now, hold off on expansion—it's like squeezing another year out of your car. Regarding layoffs, I think Cox has been less likely to go use that mechanism as a cost-saving tool. Over the last 6-7 years we have been automating and having as few people as possible operate our stations, so we don't have a lot more in terms of personnel cuts to make.


The latest product and technology information
Future US's leading brands bring the most important, up-to-date information right to your inbox
Thank you for signing up to TV Technology. You will receive a verification email shortly.
There was a problem. Please refresh the page and try again.