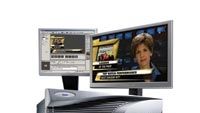 At the 2009 NAB Show, several products were on display that allow the creation of 3D graphics elements. Here are some hightlights.
Pixel Power demonstrated several new products. Pete Challinger, the company's CEO, said its new BrandMaster branding switcher puts advanced broadcast graphics directly at the point of transmission. This reduces the complexity of the signal path and streamlines the channel branding process. The result is reduced equipment, power consumption and total cost required to deliver uniquely-branded broadcast channels. The system provides real-time 3D and multichannel DVE, dynamic text and live video from internal or external sources and can be mapped to sophisticated 3D models with keyframe animations. Pixel Power also showed its LogoVision, a graphics playout device. With three models, the system can be sized to fit a range of playout channels. The graphics capabilities include multilayer static and animated logos, clocks and text crawls. A full range of options are available, including 2D DVE, external key and fill input and EAS functions.
Avid returned to NAB this year showing CG/graphics systems with new 3D capabilities and Version 5.2 of Deko 3000, an on-air graphics package that supports the industry-standard FBX and Collada formats. It enables users to easily import and play back a broader range of 3D models and animations from applications such as Autodesk 3ds Max, Autodesk Softimage 7.5 and MAXON CINEMA 4D. Now, users can leverage existing skills and toolsets without having to burden staff with learning new 3D tools.
Users can import 3D models into Deko and combine the models with live and editable text and image layers, which automatically map to the replaceable textures from the original. The model maintains specialized 3D treatments for geometry, lighting and animation and plays out as expected in the Deko environment. Power Clips are mapped to 3D models, enabling high-end visual effects like animated logos or headshots without the need for costly third-party support to get them on the air.
Chyron showed the latest addition to its production graphics systems — the HyperX3. The 2D/3D character generator and graphics platform is driven by the Lyric PRO 7 3D creation and playback application. The system includes an advanced feature set of software designed for the easy creation of 3D pie charts, bar charts and financial charts. It allows two channels of real-time HD graphics to be played out together, including full frame QuickTime and AVI files.
Making its NAB debut was the Harris Inscriber Connectus. The graphics management solution allows users to streamline and centrally manage their graphics workflow. Media content can be published from any system on a local or wide area network, or across the Internet, giving operators complete control over where and how resources are stored and distributed. Once published to a centralized graphics server, media content can be manually retrieved or scheduled to be pushed automatically to specific locations throughout the network.
Harris also showed the Inscriber G7, a graphics system that simplifies workflow while achieving high levels of graphics quality. The G7 is capable of producing up to two channels of real-time 3D high-definition graphics from a single 4RU system. It enables integrated 2D and 3D DVE, MOS integration, hardware- and software-based clip playback and video capture.
Systems solutions
Also on display at the show were several systems solutions. Algolith announced the launch of two new products. The XVC-1001-UDC is an up/down/crossconverter with built-in SD/HD frame sync. The combination UDC solution reduces costs and simplifies workflow while providing high-quality imagery and aspect ratio settings. The card supports active format descriptor (AFD) signaling for automatic management of aspect ratio and can generate AFD packets based on the aspect ratio settings.
The second new product is the XVC-1011-UC upconverter. The card provides SD-to-HD conversion plus signal cleaning. It offers advanced motion-adaptive deinterlacing, antialiasing filter, cadence correction and per pixel deinterlacing. Users can automatically delay all 16 channels of embedded audio to maintain lip sync while also processing closed-caption and time-code information.
Algolith has a unique approach to productizing. Called the One Card, One Price, More Choices program, customers can purchase any card solution today and then later reconfigure that same card into a totally different product — at no additional cost. How's that for flexibility?
AXON introduced 30 new modules for 11 different applications in the company's Synapse line. Most modules can be upgraded to HD 3Gb/s. The SD and HD/SD versions can be upgraded to handle 3Gb/s signals, making them the ideal solution for broadcast facilities that want to be prepared for future 1080p operation. The new modules consist of 3Gb/s-capable keyers, frame synchronizers, dual-channel upconverters and dual-channel crossconverters.
Also shown was the AXON TRACS compliance recording system. This eight-input 1RU device encodes all inputs to MPEG-2 or MPEG-4 for storage via FTP on third-party servers. The system can monitor live and in real time, including video, audio, Teletext and closed-captioning content, across an entire network. Search and playout functions are easy to use.
The company also announced a dual AES/EBU backup switcher with integrity checking. The 2AI48 contains two completely individual paths with main and backup inputs. Automatic backup can be triggered by an ACP or separate loss of input, audio silence, clipping or CRC errors. The switcher operates with a 48kHz sample clock locked to B&B ref or word clock ref, provides adjustable audio gain and phase control with adjustable audio delay of up to 1300ms in 1ms increments.
The latest product and technology information
Future US's leading brands bring the most important, up-to-date information right to your inbox
Thank you for signing up to TV Technology. You will receive a verification email shortly.
There was a problem. Please refresh the page and try again.