Time Running Out for FM6 Stations?
Advocates still hoping for OK to air analog audio after July deadline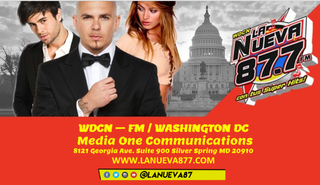 (Image credit: Media One Communications)
The future of "Franken FM" stations remains in serious doubt because the operators of those stations, along with any other low-power Channel 6 TV broadcasters, face a deadline of July 13 (opens in new tab) to cease analog broadcasting and begin digital TV transmission.
As of mid-May the Federal Communications Commission had not answered requests to allow TV stations that present themselves as radio stations on 87.7 MHz to continue analog broadcasts on that frequency.
Some proponents don't think they actually need further permission.
The FCC was notified by one LPTV station that it had converted to digital but plans to continue FM6 operations too. Venture Technologies Group, licensee of KBKF(LD) in San Jose, Calif., hopes its correspondence will help clarify the commission's stance. It also operates FM6 signals in Los Angeles, Chicago, San Diego and Sacramento.
The FCC confirmed to TV Tech sister publication Radio World that it had received KBKF's notification, which it described as a "request," and said it was "being considered and remains pending," a spokesperson said in April.
The TV station began ATSC 3.0 digital operations in February. "The station is in compliance with the ATSC 3.0 rules for digital LPTV stations," wrote Venture Technologies.
"The ancillary or supplementary audio signal occupies a portion of the remaining bandwidth assigned to the station as part of its DTV channel."
It continued: "The licensee provided notice to all potentially affected Channel 5, Channel 6, 87.7 FM and 88.1 FM stations in San Jose-San Francisco-Oakland and adjoining DMAs that it was beginning digital service with ATSC 3.0 video and an ancillary audio signal. None of these stations has reported any interference or other issues to the licensee. Should any unexpected interference occur, the licensee will promptly take remedial action, including termination of all or part of the station's signal, if necessary."
Paul Koplin, president of Venture Technologies Group, said, "We believe the FCC's existing rules permit the use of an analog audio carrier on an ancillary or supplementary basis under these circumstances."
KBFK airs contemporary Christian music from the Air1 Radio Network from the Educational Media Foundation.
EMF in March urged the FCC to "act expeditiously" (opens in new tab) on the FM6 proceeding because stations need to be able to plan "to avoid a potential unhappy surprise should their audiences lose service that they have enjoyed for many years."
"Uncertainty" created by FCC
Meanwhile, the Preserve Community Programming Coalition (PCPC), which represents half-dozen LPTV Channel 6 stations, said the earlier ATSC 1.0 digital television standard did not contemplate the use of less than a full 6 MHz.
"Under the ATSC 3.0 standard, the DTV signal can occupy as little as 5.509 MHz, leaving room for an analog audio carrier that does not in any way derogate the station's DTV signal. The KBKF(LD) application describes this configuration, but prior FCC approval is not required to offer an ancillary or supplementary service."
According to PCPC, the language of the FCC's rules permit digital LPTV stations "to offer services of any nature" including audio as long as they "do not derogate DTV broadcast stations' obligations" to transmit at least one over-the-air video program signal at no direct charge to viewer.
"In fact, the rule goes on to state that services may be provided on a broadcast, point-to-point or point-to-multipoint basis — meaning they do not need to be part of the primary ATSC television signal," a PCPC spokesperson said.
The group believes that no further FCC action is required, though it hopes the commission will clarify its position.
"The FCC should authorize currently operating analog channel 6 LPTV stations to continue using a portion of their spectrum to provide an analog aural service on 87.7 FM following the digital transition," it wrote in comments to the commission.
A PCPC spokesperson added, "Given the uncertainty that the FCC has created … the commission should reassure the underserved listeners these stations serve that their 87.7 FM stations are not going away."
Legitimacy question
The so-called Franken FM phenomenon has sparked radio industry debate about the legitimacy of the operations. There are two dozen or so such stations in the United States. Their leaders say they are serving the public interest by carving out a radio niche and have found a profitable business model in doing so.
These Channel 6 LPTVs air limited visual programming to meet their license requirements while transmitting an audio signal programmed and branded as a radio station. The FCC has an open rulemaking on whether to permit FM6 operations to continue on an ancillary or supplementary basis after the July date.
It asked for additional feedback in a public notice in December whether digital LPTVs should be allowed to operate analog radio services. The FCC first asked the very same question in 2014.
Operators of FM6 stations have lobbied for several years to be able to maintain an analog output on 87.7 even while converting to a digital TV6 service. But their outlook seemed to dim when the Media Bureau released a Public Notice this year reminding LPTV stations on Channel 6 that their deadline to terminate all analog operations was "fast approaching."
LPTVs were allowed to request an extension to complete their digital TV facilities beyond July 13, but such extensions do not allow for continued radio operations beyond that date, the FCC said.
FM6 advocates met with Media Bureau Chief Michelle Carey in March to discuss "the process for converting existing analog Channel 6 stations to digital in the absence of a decision by the commission on whether to permit digital LPTV stations to operate analog FM radio type services on an ancillary or supplementary basis," according to an ex parte summary.
Public interest
Critics of the LPTV FM6 stations, including National Public Radio, have consistently argued that the FM6 stations are a misuse of public airwaves since their TV licenses were not issued with radio service in mind. In addition, they pose an ongoing threat of harmful interference to public radio stations in the adjacent FM band reserved for noncommercial educational broadcast stations.
NPR commented previously: "So-called Franken FM stations exploit regulatory gaps to transmit a silent video signal for TV receivers and an unrelated audio service for reception by FM radios tuned to 87.7 with each Franken FM occupying 30 times the spectrum a traditional FM station uses."
But PCPC claims the FM6 stations "don't fit in any regulatory box." It dismisses the interference argument, saying that Channel 6 stations have been broadcasting audio on 87.7 MHz since the 1950s without causing interference to other services, and further that "there has never been a documented case of any Franken FM interfering with another radio or TV station."
Supporters also say FM6 programming often focuses on underserved ethnic and minority communities who historically have had limited access to the airwaves.
For example, an 87.7 FM station in New York serves the Korean community, while a station at 87.7 MHz in Los Angeles targets Latino audiences. In Sacramento, an FM6 provides programming for the Russian community.
In Chicago an FM6 station airs a soft AC and oldies format on 87.7 and claims to average a weekly cume of over a half million people.
"A voice and lifeline"
WDCN(LP) "La Nueva 87.7 FM" (opens in new tab) is a low-powered Spanish-language station with offices in Rockville, Md., and a radio signal that covers much of Washington, D.C. It is owned by Signal Above LLC, which says Washington is the country's 13th largest and most affluent Hispanic market.
Wray Fitch, managing member of Signal Above, says the station has targeted the market with Spanish-language radio programming for 11 years. It broadcasts a community bulletin board on its video signal.
"This should be the moment when all small businesses are encouraged, especially those that are serving as a voice and lifeline to underserved communities. These small businesses and the focused broadcast services they provide are a night light, if not a beacon along the path of COVID recovery and flourishing to all these small communities. That light should not be unplugged," Fitch wrote in an email to Radio World.
Fitch said he has requested an extension for the digital TV migration since WDCN's digital facilities will not be completed by the July deadline.
"We plan to timely construct our digital Channel 6. We are negotiating for equipment, tower space and hiring tower crews. The engineering has been completed," he said.
Snycom Media Group operates KXDP(LP) in Denver, which is branded as La Invasora 87.7 FM (opens in new tab) and serves the local Hispanic community.
"We are the only station in Denver that broadcasts live news, traffic and weather reports in Spanish," said Christopher Blair, owner of KXDP. "Our intentions are to continue to serve our listeners as we have in the past. We are hoping the FCC has the wisdom to realize we are essential lifelines to our communities."
KXDP, which broadcasts music videos on its TV signal, has yet to build its LPTV digital facilities; it too requested an extension from the FCC.
"We focus on the local community. We identify needy families during Christmas, Thanksgiving and other times and help them with cash or presents. And provide no charge, weekly on-air time for Alcoholics Anonymous to come to our studio and extend an invitation to those who may have the need to attend meetings," Blair said.
Daniel Melendez, president of Omega Media Broadcasting, licensee of KIPS(LP) in Beaumont, Texas, said his station is the only Spanish-language radio station in the city and is important for public safety.
"We are in an area with tons of hurricane activity and our station has been essential to bring the community detailed information. We also have been able to help with community services," Melendez said.
KIPS(LP) transmits video loops on its TV signal and plays Spanish music on 87.7 MHz, Melendez said. He has requested an extension to transition its digital facilities and hopes there will be some kind of provision to extend the station's analog aural services too.
This article originally appeared in Radio World.
The latest product and technology information
Future US's leading brands bring the most important, up-to-date information right to your inbox