Grass Valley's Champagne Super-Cover
Ronny van Geel tells TVT's sister publication TVBEurope about the special coating on Grass Valley's LDX 100 camera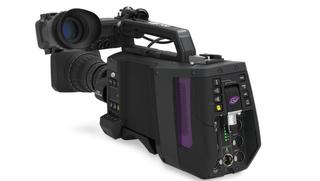 (Image credit: Grass Valley)
Did you know Grass Valley's LDX 100 camera has been developed to be both water and champagne resistant?
The LDX 100 camera platform is a high-speed, native UHD camera with native IP connectivity, which Grass Valley believes is perfect for live sport—which is why it's been made champagne-proof.
The champagne-showerproof coating was developed with Grass Valley's customers in mind, as Ronny van Geel, director product management tells TV Technology's sister publication TVBEurope: "The initial idea was that if it the camera is being used on a sports event and it started raining the cameraperson would be able to continue filming. The champagne showerproof coating was developed as part of that.
"The camera was designed so that if anything enters it, it can go straight through the cooling mechanism and it never enters the camera or any critical components. That means it can be used without a raincoat, so if the camera is at a sporting event and near the podium where all the champagne showers take place, the cameraperson can do the job without the need of a rain cover."
Of course, the camera needed plenty of testing to make sure it was champagne resistant. "We tested it during the GV Live events and a lot of sessions before and after with sparkling water, we didn't use champagne," laughs van Geel. "All our products are tested for all the things like EMI and EMC etc, and one element of that is always also moisture and water ingress. We tested it with sparkling water, as well as tap water, in high humidity in our test and torture chambers at Grass Valley."
He explains that in 2010, Grass Valley changed the way it tests the design of its cameras. "Previously we designed the camera and gave it to the production team and they tested it. But since 2010 we've had torture chamber equipment that belongs to the R&D team, so they make something, make it fail, improve it and try to make it fail again. It's part of our DNA that we have robustness."
So will the champagne-proof casing be included in all future Grass Valley cameras?
"I think it depends on what the feedback is from customers," says van Geel. "Let's see how the market reacts. The most important thing is that we always like to say we understand what out customers are trying to achieve and how people use the equipment. So let's see what happens."
The latest product and technology information
Future US's leading brands bring the most important, up-to-date information right to your inbox
Jenny has worked in the media throughout her career, joining TVBEurope as editor in 2017. She has also been an entertainment reporter, interviewing everyone from Kylie Minogue to Tom Hanks; as well as spending a number of years working in radio. She continues to appear on radio every week and occasionally pops up on TV.