Disney covers bases with throw-away DVDs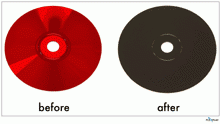 In a scene that could have come from Mission Impossible, the Walt Disney Company will release self-destructing DVDs this summer. Called EZ-D, the DVDs—containing Disney feature films—will become unplayable after two days (48 hours). The idea is to create a rental DVD that doesn't have to be returned to the video store.

When the Flexplay DVD is removed from its packaging and exposed to air, a process begins that renders the disc unplayable after the pre-set viewing period elapses. The disc becomes opaque and thereby unreadable when the disc changes color from red to black.

Buena Vista Home Entertainment, Disney's home video division, will launch the experimental movie "rental" program in August.
Disney's throw-away DVDs will use a chemical-based technology from Flexplay Technologies, a private firm that developed the discs by using a special oxygen-sensitive bonding resin. The DVDs are delivered to consumers in a sealed, airtight package. Upon opening, the disc works like a standard DVD for the two-day viewing window. After 48-hours, however, the exposure to oxygen—in a process akin to the rusting of iron—renders the disc unreadable. The DVD's coating gradually turns black, making it unreadable by the DVD's laser.
Flexplay said the technology cannot be hacked by programmers who would want to view the disc longer because the mechanism that closes the viewing window is based on a chemical reaction and has nothing to do with computer technology.
For more information visit www.flexplay.com.
The latest product and technology information
Thank you for signing up to TV Tech. You will receive a verification email shortly.
There was a problem. Please refresh the page and try again.