Ben Dawson Honored With IEEE BTS Award
By Paul McLane
"If Ben Dawson is associated with a project, it has instant credibility"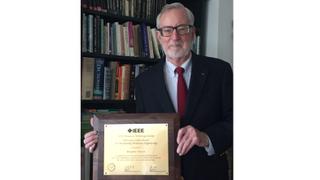 (Image credit: IEEE)
PISCATAWAY, N.J.—Ben Dawson—whose name is associated with more than a hundred medium-wave, UHF and VHF broadcasting antenna and transmission system projects in the United States and abroad—is the recipient of a notable honor from the IEEE Broadcast Technology Society.
The BTS chose Dawson to receive its Jules Cohen Outstanding Achievement Award.
"Although we could not present Ben with the award in person, he attended the October virtual BTS Adcom meeting as an invited guest, where President Ralph Hogan virtually presented him with the award," the society said in an announcement.
Dawson has six decades of experience in telecommunications engineering, and specializes in antenna and propagation design and analysis. (For a sampler of his many projects, see below.)
"Ben received numerous nominations from many colleagues throughout the industry," the IEEE BTS stated. "One nominator stated 'If Ben Dawson is associated with a project, it has instant credibility.' Another nominator stated 'Ben has always been a fabulous mentor.'"
Dawson taught himself calculus in high school to better understand antennas, according to a Radio World profile story in 2006.
"When I was 15, I began working an air shift during the summers for a radio station in Salem, Ore., but when the transmitter broke — an old RCA 250L — I was the only one who could fix it," he recalled at the time. "Then my parents moved to Portland, Ore., and I started work for KUIK(AM), which was half-owned by Harold Singleton, who was a consulting engineer. Once Harold realized I could fix things I became his go-fer."
After college, where he was chief engineer of Harvard's student FM station WHRB for a year or so, and after stops as the chief of several West Coast radio stations, Dawson formed Hatfield & Dawson in 1973 along with Jim Hatfield Jr., and Maury Hatfield.
The Cohen award is given to "exemplify outstanding work in the field of broadcasting, focusing on Integrity, professionalism, quality, extent, reach and thoroughness of the candidates work as well as commitment to client success." Last year's recipient was Gary Cavell.
It is named after Jules Cohen, who among other contributions played a major role in developing the rules governing assignment of stations in the noncommercial educational portion of the FM band.
Ben Dawson received the National Association of Broadcasters Radio Engineering Achievement Award in 2006, with his longtime project partner Ron Rackley. He has produced numerous policy analyses and technical research for private clients as well as local, state, federal and foreign governments. He's a past delegate to study groups of the International Telecommunications Union.
He's a professional electrical engineer who is a member of several IEEE societies, as well as the Association of Federal Communications Consulting Engineers and the Society of American Military Engineers.
The latest product and technology information
Future US's leading brands bring the most important, up-to-date information right to your inbox
Thank you for signing up to TV Tech. You will receive a verification email shortly.
There was a problem. Please refresh the page and try again.