IOC president tells Sportel audience 3.9 billion watched Athens Olympics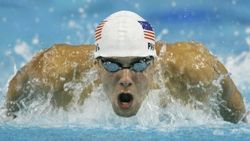 The Olympics set new records for audiences this year, as more than 3.9 billion watched the Athens Games. Michael Phelps, a U.S. Olympics swimmer set his own record this year by winning eight medals. Photo courtesy USA Swimming.

The totals are in, and coverage of the Summer Olympic Games from Athens was a global record setter, according to International Olympic Committee President Jacques Rogge.
Addressing a gathering of sports and television executives at Sportel, the International Sports Television Convention, in Monaco, Rogge said that more than 300 channels broadcast the games to 220 countries and territories.
Quoting an IOC-commissioned study from Sports Marketing Surveys, Rogge pointed out that:
During the Athens 2004 Olympic Games, 3.9 billion people (unduplicated) had access to coverage. In 2000, 3.6 billion had access to the Sydney games.
Broadcasters worldwide devoted 27 percent more time to coverage of the Athens Games than the Sydney Summer Olympics in 2000. In total, 35,000 hours were dedicated to Athens coverage; in Barcelona in 1992, there were 20,000 hours of coverage; in Atlanta in 1996, 25,000 hours; and at the 2000 Games in Sydney, 29,600 hours.
More than half of the broadcasters worldwide televised 4000 hours of live competition.
Prim-etime coverage was up by 55 percent compared to Sydney.
Globally, individual viewers averaged more than 12 hours of viewing.
There were large increases in coverage and viewer hours in Central and South America and Asia.
Viewing options were increased as several satellite and cable channels devoted 24-hours to Olympic coverage.
Broadcast partners dedicating channels to 24-hour Olympic coverage increased.
Several technological firsts occurred, including streaming video and highlight clips available to users of 3G mobile handsets, streaming video via the Internet or dedicated Web sites; and host broadcasters providing HD coverage.
The report also focused on Olympic coverage and viewing patterns by region. In North America 203 million unduplicated viewers watched some of the Athens Games. The figure is the highest for any Olympics held outside of the United States.
Total viewership of the Athens Games was 14 percent greater than that for the Olympics in Sydney. The Olympic coverage presented by NBC, which held the broadcast rights to the Olympics in the United States, ranked first in the ratings every night of the week during the Summer Games. The network attracted more than 60 million additional viewers by distributing its coverage over several channels, including CNBC, MSNBC, USA, Bravo and Telemundo.
In Canada, total Olympic viewing averaged nine hours per viewer, and daily audience size grew six percent compared to those who watched coverage from Sydney.
For more information, please visit: http://www.olympic.org/uk/news/olympic_news/full_story_uk.asp?id=1117.