WKYT Maps Future With Chyron FastMaps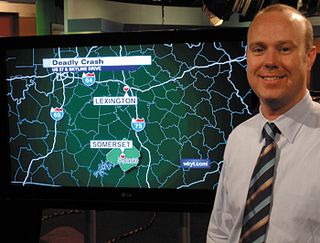 Robert Thomas and one of the maps created with Chyron AXIS FastMaps by Robert Thomas
Vice President of News
WKYT-TV


LEXINGTON, KY.
WKYT-TV made the transition to high definition in April 2007, and since then has been using the HD version of Chyron's AXIS FastMaps to prepare on-air graphics for our operation.

It will come as no surprise to TV Technology readers that the transition to high-definition broadcasting is challenging and tedious. Fortunately, AXIS FastMaps made part of that transition easy while enhancing our on air look.

PRODUCT CAME PRE-ENDORSED

The decision to purchase the AXIS system was based on a recommendation by a news director at one of our Gray Television sister stations. There are 34 stations in the group and each station is given the opportunity to make individual purchase decisions on technology. However, the success of AXIS success at one of our sister stations meant that it was already endorsed and that made our choice an easier one.

Once that decision was made, our art department started working with AXIS to create a uniform look and feel that would be used. For example, the font styles and sizes needed to be uniform and match our other on-air graphics.

When the look was finalized, it was time to train those who would be responsible for getting the maps on-air. This was done via the Web, which makes total sense for a Web-based product.

Once the training was complete, our creative workflow changed significantly. Making maps would no longer be the sole responsibility of the art department. Prior to adopting AXIS, the art department spent an enormous amount of time creating maps for newscasts. By being easy-to-use and Web-based, AXIS FastMaps allows a variety of people the ability to quickly create maps that are detailed, informative and eye-catching.

FRESH MAPS EVEN WITH LIMITED STAFFING

Although there was initial resistance from the news producers, it's now become part of the culture. By having personal responsibility, the producers now create maps that are more specific to the city, the story, and the situation. AXIS has also meant that this flexibility and quality of maps is achieved during evenings and weekends when fewer staff are available. If there's a late-breaking news item, a map to accompany that story can be created online, at home or even by the producer in the control room. This has given us incredible versatility which is now second nature to everyone who works here.

AXIS also enables us to work to typically tight deadlines. WKYT-TV has experienced very few issues with the AXIS system and any and all service/support issues that have arisen have been resolved quickly.

WKYT-TV is an innovative user of the AXIS FastMaps and we are proud of what we now achieve with the help of AXIS.

Robert Thomas has been vice president of news at WKYT-TV since 2006. He may be contacted at robert.thomas@WKYT.com.

For additional information, contact Chyron at 631-845-2000 or visit www.chyron.com.