Sunflower Broadband observes channels with Volicon technology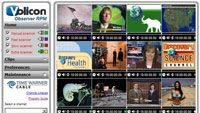 Sunflower Broadband, based in Lawrence, KS, has chosen the Volicon Observer RPM 400 system to automatically scan more than 200 channels within Sunflower's channel lineup. The monitoring capability includes detection and alerting of audio and video problems.
The Observer RPM automates the channel-scanning process, operating unattended as it scans hundreds of video channels continuously — and multiple channels simultaneously — to verify the presence of video and audio and to detect problems such as frozen video, black video, loss of video signal and low-level audio.
The four-channel system at Sunflower Broadband scans the complete channel map in approximately 15 minutes and delivers alerts of audio or video problems so that technicians can correct problems before subscribers notice them.
In addition to providing alerts, the Observer RPM can record the content in question for later review or stream the questionable TV channel over the network, enabling a technician to view video and audio on a standard Windows-based PC.
For more information, visit www.volicon.com.