QuickPlay Media rolls out new features for OpenVideo 4.0 mobile media platform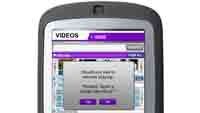 QuickPlay Media has unveiled a new set of features for its OpenVideo 4.0 mobile media delivery platform, enabling operators to offer full-length movie and television content tailored to customer viewing preferences.
Among the major new features for the platform is a "resume playback" option, which lets consumers stop a program they are in the middle of watching and pick up at the same part where they left off. At the time of playback, the QuickPlay service also provides an option for operators to dynamically insert targeted advertising. Another new feature is a search capability allowing users to look for particular content within a segment. In addition, mobile operators and/or content providers are also able to "chapterize" a long-form video into smaller, more digestible segments, thereby minimizing impact on network bandwidth.
The first mobile carrier implementation of the new feature set is planned for the first quarter of 2008.
For more information, visit www.quickplay.com.