IDX debuts ENDURA EC-1 portable battery charger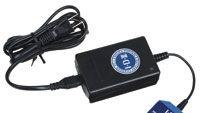 IDX System Technology debuted the ENDURA EC-1 portable battery charger at NAB2007.
The pocket-sized, lightweight charger (.62lbs) enables videographers to charge most current ENDURA batteries on-site during ENG/EFP field production.
The charger is designed to work with ENDURA Li-Ion batteries, including the new ENDURA ELITE 142WH capacity dual-cartridge system and the E-10, E-10S, E-7 and E-7S batteries.
The unit as a whole is compact: the charger is 4.3in x 1.4in x 2.6in, and the charge connection is 2.2in x 0.7in x 1.8in.
The device's over-charging circuits are designed to ensure longer life for ENDURA Li-Ion batteries. Its over-voltage protection stops the charging process if the battery is charged to more than 17.2V. Similarly, its over-charging circuit stops if the charge current exceeds 1.75A.
The EC-1 Portable Charger has received the approval of UL, CSA, CE and PSE.
For more information, visit www.idx.tv.