Genelec introduces 1038CF triamped monitoring system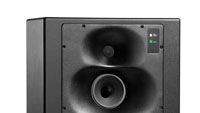 Genelec has introduced the 1038CF triamplified active monitoring system. It features a slim speaker enclosure (9.25in), dual 8in long-throw bass drivers, multiple power amps and active crossovers. The 1038CF is based on the company's established 1038B, with the same mid/high performance in a compact package, to meet the needs of today's trend toward separate subwoofers for LF content.
The 1038CF features a limited bass response, with a -2.5dB point at 57Hz, because the focus is on mid/high performance. The slim, sealed enclosure is about 24in by 18.5in, making it highly suitable for on-wall, free-standing or flush-mounted applications. The built-in triamplifier unit delivers a total of 420W into the system's two 8in long-throw bass drivers, 5.12in Genelec midrange driver and a 1i metal dome tweeter.
The 1038CF uses Genelec's advanced Directivity Controlled Waveguide technology for excellent stereo imaging and frequency balance, even in difficult acoustic environments. Versatile crossover controls allow for precise matching of the speaker system to different acoustic conditions. The system can be used in both vertical and horizontal orientation by simply rotating the waveguide. All drivers are magnetically shielded to minimize stray magnetic field effects. The system is capable of delivering up to 124dB peak acoustic output per pair at a 1m distance.
A rack-mount adapter allows the integrated amplifier unit to be positioned separately for flush- or on-wall mounting applications, allowing for better and easier amplifier cooling and easier access to the tone control DIP switches during in-room system calibration.