Front Porch Helps Manage Discovery Nets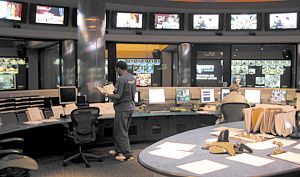 by Jonathan Perkes
Vice President of Engineering
Discovery Communications


STERLING, VA. Discovery's Television and Technology Center (DTTC) here is responsible for play-out of programming of all 13 U.S. Discovery networks. Our operation is a large one and includes implementation of one of the world's largest content storage management (CSM) systems based on Front Porch Digital's flagship technology, DIVArchive. While our automated workflow depends on multiple technologies, DIVArchive functions as a key component, the interface between automation and storage.


Discovery's Television and Technology Center master control facility At the DTTC, content is ingested from videotape into Omneon video servers under the control of OmniBus automation. Then, by using DIVArchive, that content is transferred for long-term storage to a Sun SL8500 LTO library system. When content is needed, the automation alerts DIVArchive, which restores it to play-out servers.

DIVArchive serves content for 24 program feeds, with both SD and HD versions of our broadcast properties. Discovery's networks archive 80 to 100 hours of content per day, and currently we have be-tween 15,000 and 20,000 hours in storage. Since the original system was implemented in 2004, we've expanded and upgraded it, incorporating DIVAdirector last year.

The DIVAdirector application from Front Porch is a Web-based distributed system that enables users at desktops to search (via ID number or user-definable metadata fields), browse and retrieve stored video content. It enables, for example, a Discovery staff person to double-check commercials or promos from his or her desktop, thus saving staff time and also supporting broadcast reliability. These savings in time and effort are not trivial. Before implementing DIVAdirector, if a commercial or program element needed to be previewed, a full resolution copy had to be loaded and playedt, requiring assistance from operations and engineering staff.

MAKING LIFE EASIER FOR ROBOTS

Over time, we've made some modifications to improve our workflow. For example, initially, we archived everything to the data tape library, but found that the volume of material was straining the robotics' hardware. We've now incorporated a disk-based portion of the archive for short-form content using Isilon servers, also under DIVArchive management, and also visible to users of DIVAdirector. Future plans call for using the capabilities of DIVArchive to replicate and move content to enable an off-site disaster recovery facility.

At present, our facility still relies on videotape as the initial content source, but it was designed to allow for migration to an entirely file-based workflow. For the past three years, we've been working toward that goal, and we plan on a dramatic reduction in videotape usage by early next year. This change will further improve efficiency by reducing the labor intensive task of handling videotapes.

Discovery recruited me to be part of the construction team of its new facility that brought origination in-house for the first time. Working here is very fulfilling, as it represents an opportunity that few engineers have—to help design, build and operate one of the world's premiere broadcast facilities. I started my career as a systems engineer and feel fortunate to have continued to work in broadcasting, where technology is always changing and posing new challenges.

Jonathan Perkes began his broadcast career in South Africa in 1980. He has served as vice president of engineering at Discovery Communications since 2004. He may be contacted at jonathan_perkes@discovery.com.

For additional information, contact Front Porch Digital Inc. at 303-440-7930 or visit www.fpdigital.com.


The latest product and technology information
Future US's leading brands bring the most important, up-to-date information right to your inbox