Innovation to lead industry out of adversity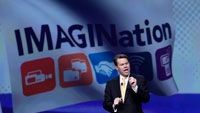 While broadcasters are experiencing their share of adversity, together they are taking control of the industry's future and innovating in ways that will help them to continue growing their audience and remain relevant, NAB president and CEO David Rehr told his audience April 20 during his "State of the Industry" opening keynote at the NAB Show.
While acknowledging the recession and its impact on broadcasters, Rehr challenged broadcasters to continue to dare doing "mighty things, forging ahead and spurring innovation," leading to a future in which broadcasters ultimately triumph.
Mobile DTV is one area where innovation will likely lead to a prosperous future, Rehr said. Reminding those gathered that the NAB provided seed money to support the Open Mobile Video Coalition, Rehr said the industry can expect 130 million phones and 25 million media players to be able to receive mobile DTV by 2012. This new mobile DTV audience could account for more than $2 billion in incremental revenue for TV broadcasters after 2012.
Through its multimillion-dollar FASTROAD technology advocacy program, the NAB is helping to make that a reality, he said. For example, FASTROAD is working with computer manufacturers and subsystem suppliers on ways to build DTV receive capabilities into laptop computers, "so receiving digital television will be easier than connecting to WiFi," Rehr said. Each year, nearly 40 million laptops are built, he added.
The Web is another area where broadcasters can work together to accelerate technology and develop new business opportunities, he said. Broadcasters are uniquely positioned in their communities to cut through the clutter on the Internet and drive consumers online and "provide them with greater access to our advertising partners, further monetizing our platforms and theirs," he said.
Rehr pointed to the success of the DTV transition as an example of what can be accomplished when broadcasters work together and take the lead. "More than 600 stations across America have already encountered a smooth and successful transition (to DTV transmission), proving that the tireless efforts of TV broadcasters to prepare their viewers paid off and reminding all of us of the continued power of broadcast television," he said.