Google CEO to headline NAB2007 super session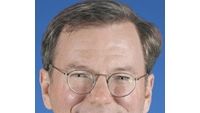 Eric Schmidt, chairman of the executive committee and CEO of Google, will headline the NAB2007 "Innovator Spotlight: View from the Top" super session April 16.
Schmidt will discuss Google's achievements and offer his predictions about the company's impact on the future of radio, television, advertising and the public.
As CEO, Schmidt focuses on building the corporate infrastructure needed to maintain Google's rapid growth. He also shares responsibility for Google's daily operations with founders Larry Page and Sergey Brin.
For more information, visit www.nabshow.com.