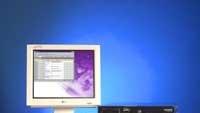 Dictionary.com defines peripheral as:
Related to, located in or constituting an outer boundary or periphery.
Perceived or perceiving near the outer edges of the retina: peripheral vision.
Anatomy.a. Of the surface or outer part of a body or organ; external.b. Of, relating to or being part of the peripheral nervous system.
Of minor relevance or importance.
Auxiliary.
Of these, the fourth seems to apply most closely to DTV peripheral. However, only two items for DTV origination would be outside this scope — the transmitter and the encoder. Nothing else major is specified by the FCC as required, except for closed captions. That leaves fertile ground for exploring what might be useful in a DTV installation.

Digital's PSIP bit stream generator automatically converts program information from program listing services or traffic systems to the ATSC A/65 format.

Highest among these items is anything HDTV. HDTV, while a major focus of many statements by the FCC and the subject of much public nudging, is just not part of any standard. So, HDTV encoders vary quite widely in capabilities and cost. Currently, the least expensive option I know of costs well under $50,000.
Add to the list an encoder for 5.1 channel sound. The FCC is mute on whether surround sound is required, leaving broadcasters with all the options in the Dolby AC-3 Standard, codified as ATSC A-52 in December of 1995, and revised in 2001. Stereo is fine (2/0), as is mono (center channel only defined as 1/0) and, of course, 3/2 for 5-channel surround. So our next peripheral might be a Dolby AC3 encoder to permit 5.1-channel surround. Because this is available from only Dolby, as no one else has it licensed so far, you should not bother looking for other suppliers. However, several encoders are available with 2/0 stereo coding of AC3 internally without calling Dolby.
Add ATSC stream monitoring to the list. Analyzing MPEG requires a device to parse out the fragments, keep track of what is in the stream and determine if it is compliant. You might like to know when your PSIP or audio goes away after all. Many manufacturers have devices in this category, including Pixelmetrix, Rohde & Schwarz, Sencore, TANDBERG TV, Tektronix and Triveni.
Transmission monitoring equipment would also be high on many lists. You might use an RF test set in the exciter, or choose an external system from Agilent, Rohde & Schwartz, Sencore, Tektronix and others.
Though likely to be required by the FCC in the future, the PSIP portion of the ATSC standards "suite" — A-65 — is not yet required in full. So-called static PSIP, literally just channel numbers, must be broadcast, but the static information that requires can be generated internally in most encoders. Full PSIP requires an external box to use data from traffic, listing services and even automation to generate the tables required in A-65. Look to Harris, Leitch AgileVision, Triveni and others for full systems for PSIP.
Loads of other options might be considered. For instance, you might want to translate captions from your NTSC channel to DTV, and hardware is available from several manufacturers, including Evertz. Or, you might want to do HDTV pass-through, and a switcher for HD signals might be the order of the day. Evertz, Leitch, Miranda, Sony, Thomson Grass Valley and others make switchers and logo inserters that would be key to making that happen. You could probably use a set-top box or two and some monitors as well. Barco, Ikegami, JVC, Panasonic, Sony and others make HDTV monitors, but don't forget virtual monitor walls from companies such as Barco, Evertz, Leitch and Miranda that can permit both 16:9 and 4:3 images to be combined on a VGA projector, display cube, DLP imager, plasma display or LCD monitor.
It might be wise to have a consumer setup somewhere in the station for seeing the actual program guide as displayed by your viewers, as well as gauging the delivered quality of the picture and sound coding.
Lastly, there is audio monitoring. The sound quality of DTV begs that you should be able to hear what your listeners have at home. That means a decoder or set-top with 5.1 channel outputs, some good speakers and acoustics that are not too far gone. Wohler makes useful surround sound decoder/speaker combinations with metering in a 2RU chassis. Dolby makes the reference decoder, as well as numerous gadgets for setting and monitoring the metadata that is part of the AC3 audio stream.
John Luff is senior vice president of business development at AZCAR. To reach him, visitwww.azcar.com.
Send questions and comments to:john_luff@primediabusiness.com
The latest product and technology information
Future US's leading brands bring the most important, up-to-date information right to your inbox
Thank you for signing up to TV Tech. You will receive a verification email shortly.
There was a problem. Please refresh the page and try again.