Canon HD lenses focus on high-profile sports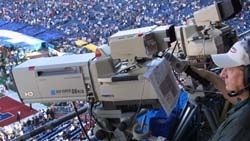 Canon's DIGISUPER series lenses feature Optical Shift Image Stabilization technology.

Veteran mobile production company NEP Broadcasting used a variety of Canon HD lenses to shoot the Super Bowl XL telecast on ABC, Sunday, Feb. 5. It had more than 150 Grass Valley, Ikegami and Sony HD cameras onsite.
NEP used several different Canon lenses for the big game, including three long HDTV lenses equipped with Shift-IS internal Optical Shift Image Stabilization. These included the DIGISUPER100xs (XJ100x9.3BIE-D), the DIGISUPER86xs (XJ86x9.3BIE-D), and the DIGISUPER75xs (XJ75x9.3BIE-D). NEP also employed several portable HD EFP lenses: the HJ11ex4.7B IRSE wide-angle and the HJ21ex7.8B IRSE telephoto zoom lens.
Canon's lenses also feature XS technology for improved optical performance and lighter weight, as well as the company's second-generation Digital Servo System, which provides precise compensation of lens focus breathing (the inadvertent alteration of field of view when operating the focus control).
The HJ11ex4.7B was used on the field and in the team locker rooms. Both the HJ11ex4.7B and the HJ21ex7.8B have added value thanks to Canon's eDrive technology, enabling users to program individual settings into a lens for precise and automated zoom and focus.
This is the 15th trip to the Super Bowl for NEP. Canon broadcast lenses are also being used by NBC in Torino, Italy, for its Winter Olympics HD coverage.
For more information, visit www.usa.canon.com.