Zaxcom shows wireless recording systems at AES 2006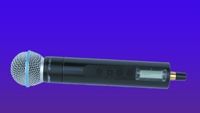 At the AES 2006 exhibition in San Francisco, Zaxcom introduced two new handheld wireless systems. The new ZFR800, a wireless recorder, and TRX800, a wireless microphone (that includes an integrated SMPTE timecode and remote control receiver plus internal recorder), provide internal recording capabilities.
The TRX800 (patent-pending) is the industry's first handheld microphone to produce a timecode-referenced recording, according to the company, which acts as a back up for live or live-to-tape applications where wireless transmission is affected by interference or limited frequency availability.
For simplified editing, an internal RF receiver in both the ZFR800 and TRX800 allows for timecode entry or remote control. The receiver includes SMPTE timecode, jammed from the internal wireless recorder so that it is always frame accurate to the camera. Audio files are recorded in full-resolution, full-bandwidth form as broadcast wave (.bwav) files, or compressed as MP3 files, directly to a removable mini SD memory card.
With this capability, production staff can hand off audio instantly without handing off the recorder. Two recording modes are available in the ZFR800 and TRX800: continuous, for nonstop recording as soon as the mic is switched on, and the traditional record/stop mode for manual control.
During continuous recording, markers can be inserted with a push of a button for fast transfers of select recorded material while providing an infinite prerecord buffer. Up to eight hours of audio can be recorded in full-bandwidth on a single 2GB card.
For more information, visit www.zaxcom.com.