Prism Sound Orpheus supports Windows Vista 64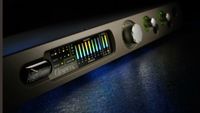 Prism Sound's multichannel Orpheus computer audio interface is now fully supported on Vista 64 as well as other 64-bit operating systems. The Orpheus installer for Windows always included 64-bit versions that could be used with the XP 64-bit version. Following extensive tests, the company can confirm that Orpheus fully supports Vista 64, allowing seamless integration with the latest 64-bit DAWs.
"The main advantage of using 64-bit processing is that users can access more RAM; Vista 64 allows up to 128GB RAM. This means you can run more plug-ins and applications than was possible before. In addition, applications that are specifically optimized for 64-bit processors show a significant increase in performance," said Graham Boswell, Prism Sound's sales director.
Orpheus is a 1RU, 19in, rack-mount, 192kHz-capable unit that is designed as a cost-effective computer-based FireWire interface that doesn't sacrifice the features and the quality of its products, such as the ADA-8XR. It offers eight simultaneous balanced analog inputs, four line-level jack inputs and four auto-sensing mic/line Neutrik combi jacks that will accept either jack or XLR connectors. The high‑quality mic preamps allow mic-level inputs to be boosted by up to 60dB, and each analog input has its own adjustable Prism Sound Overkiller built-in to prevent signal overloads before the A-D conversion stage.
There are also a switchable SPDIF/AES-EBU stereo digital input and an eight-channel ADAT optical input, allowing the Orpheus to handle a maximum of 18 simultaneous inputs to a computer-based recording system. A built-in mixer is included, allowing users to monitor input signals with zero latency, insert analog summing mixers or control multiple stereo or multichannel monitoring systems directly. A high-quality, low-jitter digital clock source is also built-in, along with synchronous sample-rate conversion and SNS noise-shaping, for accurate real-time reclocking or sample-rate conversion or high-quality dithering of 24-bit material down to 16-bit for CD mastering.
Orpheus is fully software-controllable via a cross-platform control application (available for PCs running Windows XP, Vista or Macs running OS X). This makes it ideally suited to DAW-based recordists who wish to maintain the quality of analog-sourced signals.
For more information, visit www.prismsound.com/orpheus.