Prestonwood Church Goes HD With Sony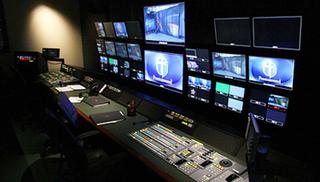 The Sony MVS-8000G multiformat production switcher installation at Prestonwood ChurchPLANO, TEXAS
The use of technology is not new to Prestonwood Baptist Church here. Our pastor, Jack Graham has long been an advocate of spreading the church's message beyond its walls and to the world at large. As a result, we purchased airtime on the Trinity Broadcasting Network and in April 1994, PowerPoint Ministries was launched officially as the church's radio, television and Internet broadcast ministry. Our ministry now reaches a global audience through our radio and television programs, and our television broadcasts now reach more than 72 countries.

HIGH-DEFINITION FACILITY MAKEOVER

To maintain a level of broadcast quality and production standards, and to ensure our message continued to be spread effectively, we recently upgraded our technology with the installation of a range of Sony high-definition broadcast and production equipment, including HDC-1400 studio cameras and an MVS-8000G multiformat production switcher.

We did extensive research before making our decision to go with Sony and concluded that their high-definition cameras and MVS-8000G production switcher were the best fit for our particular use.

What really impressed us about the MVS-8000G was its modular design. This meant that we could custom tailor the control panel to fit our exact needs. If the technical director decides that he or she wants the fade-to-black control in the upper right and not the lower right, it's easy. The switcher itself has also proven to be very reliable.

Other features that impressed us were the MVS-8000G's ability to scale up easily. Should we want to expand things, it's a matter of moving to a larger frame. Also, the G series has built-in cross conversion. It accepts both standard- and high-definition video, and performs any necessary up or down conversion internally. This feature simplifies things for us, as there was no need to add in peripheral devices and associated outboard cabling.

MEETING VIEWER EXPECTATIONS

People today expect a professional level of production values when viewing television, and that means that our worship service needs to be equal to what they have come to expect from their home theater and movie theater experiences. Having HD quality also enables us to appeal to younger members of the congregation and helps to communicate and connect with a generation that is very media savvy.

Our church has always embraced every method that we can use to communicate our message. This high-definition technology from Sony allows us to find new ways to reach out to our members and larger audiences.

We are confident that the choice of the MVS8000G switcher is one that will last.

Scott Seal is the executive director of PowerPoint Ministries. He may be contacted atsseal@prestonwood.org.

For additional information, contact Sony at 201-930-1000 or visitwww.sony.com/professional.


The latest product and technology information
Future US's leading brands bring the most important, up-to-date information right to your inbox
Thank you for signing up to TV Tech. You will receive a verification email shortly.
There was a problem. Please refresh the page and try again.