Panasonic AG-HPX170 HD Camera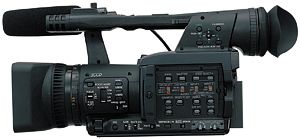 Panasonic AG-HPX170 The easiest way to describe the Panasonic AG-HPX170 is to think of it as the HVX200 minus the Mini DV tape drive. But in creating a new P2 camera model, Panasonic also seized the opportunity to add some improvements. The result is the lightest and smallest P2 camera with improved CCDs, a wider-angle zoom lens, HD-SDI output, a built-in waveform monitor/vectorscope, and modifications in menu and iris control.

FEATURES

The Panasonic HPX170, like its predecessor the HVX200, is a handheld HD camera that records virtually all existing video formats onto high-capacity P2 memory cards. Although tailored for HD, it records 480 60i, 30p and 24p using either DVCPRO, DV or DVCPRO 50 codecs. HD recording uses the DVCPRO HD codec to cover a full range of formats: 1080/60i, 1080/30p, 1080/24p, 720/60p, 720/30p and 720/24p. Audio is four-channel, uncompressed 16-bit digital with two XLR inputs and physical on-camera volume controls.

When recording in the 720 mode, there is the option of using 720 30pN or 720 24pN. These options record only the exact number of frames, as opposed to using a more common method that extracts them from a 60i stream. This makes the recording process more efficient and more than doubles the recording capacity of the P2 cards.

The format capability matches that of the HVX200; however, the HPX170 does not have a Mini DV tape drive. But as the migration to HD becomes more complete, there is a diminishing need for DV tape recording capability.

Solid-state P2 memory cards are the recording media for the HPX170. The largest card currently available is 64 GB. The camera has two card slots, allowing a maximum storage capacity of 128 GB. This translates to 128 minutes of HD video. However, if acquiring in the 720/24pN mode, recording time is extended to 320 minutes.

The HPX170 is a full HD camera that provides 4:2:2 sampling, low intra-frame compression, and a data rate of 100 Mbps. Images are captured by three 1/3-inch CCDs that have been improved to reduce smear and noise in low-light situations.

The built-in waveform monitor is easily activated by a button inside the LCD screen door. This provides a quick light-metering option in addition to the zebra pattern.

Both the HVX200 and the HPX170 have a range of 12 fps to 60 fps for creating authentic fast to slow motion. However, the HPX170 offers 20 steps within that range instead of 12.

There are a number of other features and improvements that have been added to the HPX170. One of these is a slightly wider range of ND filters (1/4, 1/16 and 1/64 on the HPX170, as opposed to 1/8 and 1/64 on the HVX200). With the flick of a switch, you can use the large focus ring as an iris control. The menu controls have been repositioned to the side of the eyepiece and have more logical button orientations. The audio level controls have been moved to the side of the camera where they are easier to access while shooting. There's also a digital zoom option that multiplies the zoom magnification (but only available when recording in 1080/60i). And there's a new button that changes the LCD screen brightness level to increase its efficiency in dark or bright locations.

The HPX170 has all of the features found in the HVX200, including, of course, the convenience of the P2 workflow, which is well integrated into Final Cut Pro and Avid systems.

IN USE

Anyone who has used the HVX200 can pick up the HPX170 and use it right away. A few of the new features may require a quick trip to the manual. For example, the digital zoom option has to be assigned to one of the user-defined buttons.

The first thing I noticed about the HPX170 is how light and easy it is to hold in one hand. This camera is ergonomically well designed, and the improved placement of audio and menu controls make it an ideal field camera. The HPX170 weighs only 4.19 pounds, compared to 5.5 pounds for the HVX200.

I have to say that I am very enamored with the camera's P2 storage. You just pop one or two cards in, turn on the camera and start shooting. You can quickly review your clips and start shooting again immediately. And now with the storage capacity reaching respectable levels, I can find no shortcomings in this system. Memory cards are, in my opinion, the best medium. Record startup is instantaneous, the camera is absolutely noiseless, and the cards are immune to the mechanical failure that eventually awaits all disk and tape drives.

I tend to shoot mostly documentaries and interviews. These long shoots place the highest demand on recording capacity and I've found that the 64 GB cards can handle it. I shoot documentaries in 720/24pN mode, which gives me more than five hours of recording time on two P2 cards. If I shoot more than that in a day, I'm probably overshooting. But I could shoot longer by transfering the card contents in the field via laptop.

The HPX170 is as portable as a camera can be, so it was easy to take it into a variety of shooting conditions. In one day, I shot on a ski trail, a city street in both day and night conditions, inside a restaurant, and inside several homes.

Like all cameras of this size, there are advantages and disadvantages. A large, shoulder-mount design provides more stability. The small size allows you to shoot in a wider range of situations, such as in small cars and crowded spaces. It also makes you less conspicuous, allowing for more spontaneous and candid footage. I found the HPX170 to be comfortable to use, as it's well balanced and compensates for its small size by staying steady when held with one hand. And the optical image stabilizer is very effective in smoothing out handheld shots.

The great thing about the HPX170 is that you can get all of the advantages of a small camera while achieving an excellent image in full HD.

Fast FactsApplication
SD/HD video capture with P2 storage technology

Key Features
Three 1/3-inch sensors, capture in a variety of video formats, built-in waveform monitor/vectorscope, four-channel audio recording

Price
MSRP $5,695

Contact
Panasonic Broadcast | 201-348-5300 | www.pananasonic.com/broadcastIn one test, I held the HPX170 and the HVX200 side by side and ran the cameras as I walked from a well-lit room into a dark room illuminated only by evening window light. I transferred the contents of the P2 cards to my Mac Pro and then into Final Cut Pro. When I reviewed the clips, it was quite clear that the HPX170 has considerably less noise when shooting in very low light. With the gain turned up to 12 dB, the noise level in darker areas on HVX200 was quite noticeable, but was barely visible on the HPX170. In addition, I found the image to be slightly sharper overall.

The HPX170, like its HVX200 brother, also can use "Scene Files," which are pre-set image "looks." The camera ships with six Scene Files and you can download an additional 18 from the Panasonic Web site.

In my tests, the image quality rivals or exceeds that from other cameras I've tested in this class, (meaning HD camcorders in the less than $10,000 price range). Although the quality of HDV cameras has proven impressive, I personally would choose the Panasonic P2 cameras, as I find the DVCPRO HD codec with its intra-frame compression, 4:2:2 sampling and higher data rate more desirable than more highly compressed Long-GOP methods.

Now that the P2 cards have come of age, I find the capacity is sufficient to enable the HPX170 to be the most mobile full HD camera on the market.

SUMMARY

The Panasonic HPX170 has many significant improvements over the HVX200. If you are certain that you have no need for a Mini DV tape drive, this is the camera to get. The image quality is better in low light and slightly sharper overall. And the 28 mm lens makes it an ideal camera for shooting in small spaces. This is a camera that has the quality to serve as a primary production camera, or as an ultra-portable secondary camera that can still provide footage that intercuts well with that shot on more expensive cameras in a higher class.

Geoff Poister, Ph.D., is a member of the Film and Television faculty at Boston University and a regular contributor to TV Technology.


The latest product and technology information
Future US's leading brands bring the most important, up-to-date information right to your inbox