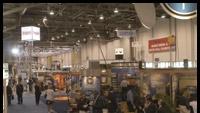 Compression — the time allotted for me to see all the new technologies at this year's NAB. Decompression — Thursday afternoon when the next show is a mere 364 days away.

Many companies at the show this year offered innovative, end-to-end compression solutions.

NAB 2003 saw the expansion of a trend that began a few years ago. The large investment in compression technologies is finally beginning to bear fruit. This year, traditional broadcast, IP broadcast, streaming and compression were tightly integrated.
Probably one of the most impressive technologies this year was Sony's Professional Optical Disc system, a Pick Hit recipient. The full system includes camcorders, mobile and studio recorders and, of course, the disc media. The optical disc media is based on a professional version of the Blue Ray format used in consumer optical HD recorders. The system records using both the DVCAM codec at 25Mb/s and the IMX codec at 30-, 40- or 50Mb/s, and has Gigabit Ethernet ports and i.Link. That is covered in Tom McAuliffe's article on streaming, so let me get to the topic at hand — compression.
From a compression standpoint, it is no longer acceptable to just have great codecs. Simply being a codec company does not lead to a profitable business model in this post-technology-frenzied climate. Offering a solution, preferably an end-to-end solution for the broadcaster, is still high on the list of winners. There were a few well-placed companies showing new and innovative products. Envivio is the first one that comes to mind.
Envivio showed off its H.264 solution to deliver live broadcast-quality video over satellite, cable and telecommunications networks. H.264 Advanced Video Coding (AVC) is the new codec developed by the MPEG ISO and ITU-T groups. H.264 has shown a 50 to 60 percent improvement in bit-rate reduction with a significant improvement in coding efficiency. Compared to other compression standards such as MPEG-2, H.264 delivers live broadcast quality much more efficiently. Envivio has been instrumental in developing the H.264 standard and will deliver H.264 throughout its product line.
iVast offers a number of products as part of their MPEG-4 platform. The platform consists of a suite of standards-based encoding, authoring, distribution, media management and playback products. Studio Author is an object-oriented MPEG-4 solution that allows users to easily create MPEG-4 digital audio and video, as well as 2-D and 3-D graphics content.
Ligos seems to be bucking the trend of moving from pure technology to a hardware solutions supplier. The MediaRig Core is a set of scaleable software modules that provide reliability and performance equivalent to hardware encoders, while surpassing the picture quality of those encoders. Its flexible encoding features allow live real-time encoding, file transcode, stream transrating and dual-stream processing.
Pixeltools… I love these guys! This little software company seems to turn out some of the most innovative and powerful tools for MPEG experts. While everyone is working on making standard-definition content encoding faster and better, Pixeltools has been working on HD. Expert-HD is a high-performance, high-quality software MPEG encoder that produces MPEG transport streams that are compliant with HD video specifications and compatible with HD video decoders.
Expert-HD can encode one hour of source video in 26 minutes for 720×480 24fps source, 40 minutes for 1280×720 24fps source or 90 minutes for 1920×1280 24fps source.
As important as compression is, delivery of media content has become a hot issue. Network costs and bandwidth continue to rise, and truly efficient delivery is the Holy Grail of compression.
Xiran is a new division of SimpleTech — the large memory chip supplier. They have developed an innovative IP delivery mechanism: the STM-1000. It uses what Xiran calls the DirectPath architecture to assure wire speed delivery of streaming media.
With its direct path between storage and the network, optimized streaming software and high-capacity storage, the STM-1000 delivers multiple formats and bit rates up to 1 Gb/s. Because the DirectPath hardware removes the overhead usually done by the CPU, a single-port STM-1000 can serve over 3000 simultaneous 300kb/s users without sacrificing quality.
Three companies received 2003 Pick Hit awards for compression products. Computer Modules won for their DVB-ASI Time Shifter, Logic Innovations for their TSM-2800 multiplexer, and Thales for their Amber cable translator.
Steven M. Blumenfeld is president ofStudioBroadcast.com.
The latest product and technology information
Future US's leading brands bring the most important, up-to-date information right to your inbox