Middle Tennessee State University Sounds off With Calrec for Bonnaroo
Who would have guessed that 29 of the streamed performances were switched and mixed entirely by a crew of university students?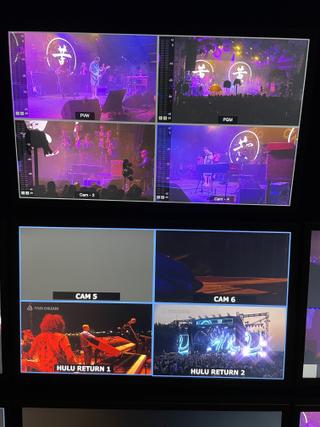 (Image credit: Calrec)
MURFREESBORO, Tenn.—At Middle Tennessee State University, our broadcast audio advances and remote production accomplishments have been rapidly evolving. A prime example of this happened in June during the Bonnaroo Music and Arts Festival in Manchester, Tenn., where more than 80,000 fans took in 135 scheduled acts on six primary stages over a non-stop four-day weekend. The experience of seeing and hearing multiple overlapping shows, especially amongst the kaleidoscopic lights of "'Roo" at night, is exhilarating and dizzying.
However, if the crowds, sound levels and smells of a live music festival aren't your speed, there was a streaming alternative on Hulu, which broadcast two channels of Bonnaroo programming over the same four days with live and time-shifted coverage of 71 selected performances.
It takes a national level crew of producers and craft professionals to create 70 consistent hours of great-looking, great sounding, high-definition multicamera concert television. But who would have guessed that 29 of the streamed performances, originating from two separate Bonnaroo stages—sometimes at the same time—were switched and mixed entirely by a crew of university students in a 40-foot expando box truck nearly half a mile from NEP's mobile units in the master control compound?
Emerging Artistry
In 2014, when this story begins, the College of Media and Entertainment at MTSU hosted a symposium on music festival management that opened the door to an educational partnership with Bonnaroo. I became the coordinator and audio supervisor on a faculty/staff team that taught nearly 100 students over the next five years how to mix, shoot, engineer, and direct live performance coverage of Bonnaroo's "emerging artist" stage.
What began next as a limited plan in 2018 to replace the truck console and deploy digitally networked field boxes led to another opportunity thanks to Calrec. We made a transformational investment in not just one but three digital broadcast audio consoles with associated I/O equipment to support broader collaboration and training on premises as well as in the mobile unit. We certainly didn't know how relevant distributed production and remote integration would become within the next year.
Breaking the Mold
During peak-Covid, we used our Calrec Summa-32 and Brio-36 consoles in a variety of linked and independent configurations across the MTSU campus on dark fiber Hydra2 networks and within the College of Media and Entertainment's studios. The equipment and its unique capabilities also helped us launch a new broadcast audio production course.
We broke the mold again at Bonnaroo in 2022 when we were asked to go live and produce several mainstage EDM acts for that year's Hulu broadcast. Not only did we shoot more total performance hours than any previous season, we spanned more than 3,000 feet with a dozen video lines and over 100 audio channels to reach both the EDM stage and our alternate venue, thanks to our Calrec upgrades.
To achieve simultaneous broadcasts from two stages in 2023, we implemented two fully independent video production switchers, a complex audio traffic scheme with multitrack recording, and independent audio program mixing, monitoring and QC, thanks in huge part to the flexibility of the Brio's split console layers, dual inputs per channel, multiple main buses and Calrec Fader Assist.
For more information visit https://calrec.com/
Get the TV Tech Newsletter
The professional video industry's #1 source for news, trends and product and tech information. Sign up below.
Michael Fleming is an audio engineer with a strong track record in broadcast audio and music production. He earned degrees in physics and music from Carleton College and McGill University, respectively, and has held national office in the Audio Engineering Society, where he also co-chaired the international conferences on audio education in 2013 and 2021. At Middle Tennessee State University, Fleming is a professor of audio production in the College of Media and Entertainment's Recording Industry Department.