Lectrosonics selected for Toronto PAC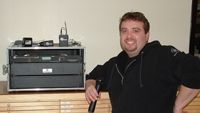 A recent audio upgrade at Toronto's Young Center for the Performing Arts included a specification for wireless mic systems that could move easily move among the various venues and, because the venue is home to both professional and student productions, provide both pro audio quality and ease of operation.
Project manager Wayne Korhonen, oversaw the project for Toronto-based CinequipWhite. "The Young Center is an RF-rich environment," Korhonen said. "This facility is just over 1mi from the CN Tower, which has a lot of TV and other RF transmitters. Having the good, clean front-end filtering and strong RF production characteristics that Lectrosonics wireless gear offers is precisely what made it the perfect choice for this project. Numerous wireless products from several manufacturers were tested, and the Lectrosonics equipment was, unquestionably, the best performer."
Korhonen deployed two independent, six-channel wireless microphone systems, housed in portable equipment racks to allow easy movement. Each consists of two Lectrosonics UT handheld transmitters with VMC capsules and three UM400a beltpack transmitters. On the receiving end, each uses a Lectrosonics Venue Series VRM chassis with four VRS modules. These are coupled with SNA 600 dipole antennas to enhance signal reception.
For the Kevin and Roger Garland Cabaret, a multifunction space that hosts everything from dance performances to corporate meetings, a Lectrosonics DM84 digital matrix processor was installed to drive the existing four-channel amp system and PA. "The DM84 enables them to have preset mic levels as well as tie-ins for their audio consoles so they can handle live mixing when required," Korhonen said. "Presenters can patch their laptop computers into the system and project their work onto the screen, while audio for the presentation is handled automatically — without the need for an on-site technician. Presets are accessed via an Extron control interface, so there's really no chance of the system being disrupted by an unauthorized person."
"This equipment has an extremely low noise floor," Korhonen said, "which is critically important, because you certainly don't want to hear any kind of audio hiss or other noise during a play's quiet moments. And in the presentation hall, the fact that the DM84 has an RS-232 interface made it the perfect choice. The fact is, the Lectrosonics equipment provides a high level of performance while being easy for the end user to work with, and that's a winning formula for everyone involved."
The latest product and technology information
Future US's leading brands bring the most important, up-to-date information right to your inbox