Internet-based channel acquires with Fujinon HD lenses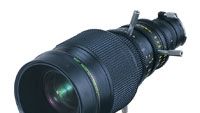 A man named Rob Draper has launched the first Internet TV channel exploring the world of Single Malt Scotch whiskey (http://www.singlemalt.tv/), with half a million viewers in 107 countries who watch the channel for an average of 69 minutes at a time.
As many as five production crews work for Draper's Visionmill Production Company to capture scotch whiskey festivals and events, as well as shoot interviews with distillery owners.
A veteran cinematographer, Draper said many people questioned his decision to shoot in HD because the content is viewed on the Internet, but says he's proved that computer viewers want the same high-quality image experience as traditional television. Shooting in HD also allows him to build a catalog of video that can be easily repurposed.
All of the crews use either the Fujinon HA13X4.5BERM HD ENG-style lenses or the HAc15x7.3 cine-style lens, mounted on Panasonic AJ-HPX-2000 P2 HD solid-state camcorders. Draper says for the most part, he prefers to use the wide-angle lens because of its ability to produce a feature film look.
Draper credits the popularity of the newly launched IPTV offering with the high-quality look of the channel's programming.
For more information, visit www.fujinonbroadcast.com.