Grass Valley's Kayenne switcher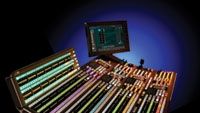 When the design team at Grass Valley set out to develop the next generation of production switchers, it understood that any new platform would have to meet the demands of today's more complex productions, supporting sophisticated, multilayered effects and HD signal processing.
Most importantly, the switcher control panel had to be laid so its new features were immediately familiar to technical directors, whether or not they were used to working on a Grass Valley switcher.
The result is the 1.5 to 4.5M/E Kayenne video production center, which offers a wide range of solutions to address operators' pressing concerns. The switchers feature unique operational functionality such as six keyers per M/E, 20 DPM channels, define E-MEM, aux bus transitions and source rules.
Switcher operators not only have to be the creative person answering to the director, but also the mechanic who knows how to get the most out of the switcher panel in front of them. The solution has to be easy to use and powerful, which is why Kayenne includes a highly intuitive user interface.
This ease of use starts with source rules, which allow an operator to set specific rules regarding how to handle different program elements. At a live football game, a broadcaster would never show a "live" bug over a replay. With Kayenne, the operator can now preprogram the keys that should be added or dropped to match specific sources. These source rules can also be used on preview before being taken to air. Previously, the operator had to remember these implicit or explicit rules according to a director's wishes and then apply them. Source rules make this laborious task easy and protects against errors, providing a safety net for operators.
All of the features, menu items and buttons are more easily accessible on the control surface. The menu navigation structure has been simplified to enable TDs to do more with less button pushes. With new tools like "History" and "Favorites" — which mimic Internet browsers — the TD can recall a desired menu with a single selection using the newly designed widescreen touch-screen control panel. Navigation is fast and easy, enabling the operator to assign and then return to a favorite menu item at will.
A vibrant yet elegant control panel
The new control surface is perhaps the switcher's most visible attribute. Several ergonomic studies and prototype models were used to develop a control panel that makes switching sources and effects easy, even after long hours of operation. Its modular design affects how the switcher can be used as well as how it can be serviced. All of the modules are hot-swappable, so if one component fails, it will not affect the entire panel and can easily be replaced during production.
The panel can be curved or flat, depending on the installer's preference, making all of the buttons easy to see and reach. Two rows of configurable OLED source and function name displays provide crisp legibility at a wide range of viewing angles. All panel buttons are RGB. Color is used to aid the technical director by indicating M/E stripe and key row delegation, as well as functional delegation, and can be used to highlight sources.
Soft buttons feature a four-character LED display above them. The LED titles tell the operator which function is assigned, and the button color indicates the overall mode of operation.
By incorporating all three elements — OLEDs, RGB buttons and soft buttons — the system is simple to operate.
The features TDs need most
For many years the goal has been to add more features into the TD's toolbox. Kayenne offers 20 channels of DVE available at the touch of a button, as well as six keyers per M/E to support multilayer effects. It also includes one minute of HD storage for stills and clips, which is especially useful for animated transitions. This is all accomplished by leveraging leading-edge FPGA technology.
In addition, the switcher features several new control functions. It has a panel module dedicated to external device control, complete with a jog shuttle wheel, and access to a library of cues. These cues identify clips by device, name, duration (time code), etc. Cues can be recalled from an E-MEM directly or by being manually loaded from the device control module and then played in conjunction with an E-MEM.
The entire E-MEM system has also been improved for better performance. There's a finer granularity and more precise control, where the operator has access to 23 sublevels within each M/E. Prior to this new development, an E-MEM took a snapshot of the whole M/E. Now the TD can keyframe one iDPM channel or a single key without affecting the rest of the M/E. This flexibility allows a TD to build more interesting effects in less time.
Likewise, the architecture has been structured to accommodate the tight quarters of a production truck or space-limited control rooms. The switcher's control panel runs silently during operation because the cooling fans and CPU have been moved into an external panel control unit that can be located up to 50ft away.
Internal format conversion
The Kayenne includes in and out conversion features to handle any type of mixed format production. If an operator has an HD project and has to produce an SD output, he doesn't have to burn up an M/E to do so. This is accomplished via circuitry internal to the switcher. The switcher can handle both 16:9 and 4:3 aspect ratios within a single production by automatically inserting video into sidebars on 4:3 sources for 16:9 viewing.
Mixed format production is handled with a feature called MatchDef, which facilitates internal input conversion (from SD to HD, or vice versa, or cross-conversion) so that the TD is always working in the same format inside the switcher. Another feature, SetDef, is used for setting the resolution of the required output. These internal converters use motion adaptor circuitry, color space conversion and other high-quality signal processing techniques.
FlexiKey allows an operator to create programmable clean feeds. Each M/E channel has four program outputs, and the user can specify which keys go on which outputs. This allows Kayenne to support multiple program feeds with different titles over the same background for multichannel applications.
The switcher is available in a range of video processing frames from 1.5 to 4.5 M/E (with the half M/E standard in all frames).
A switcher ready for today
Kayenne is being introduced at NAB 2009 with all frame and panel models immediately available. For the purist TD, many features of Grass Valley's switchers have been reintroduced. For example, the split-level arm that was used in earlier switchers is back on the Kayenne, this time for use by DoubleTake, the split M/E mode introduced with Kalypso. Now the primary and secondary M/E partitions provided by DoubleTake can be independently controlled at the same time to create captivating effects on-screen.
David Casper is the advanced development manager for production switchers and effects for Grass Valley.
The latest product and technology information
Future US's leading brands bring the most important, up-to-date information right to your inbox