Wisconsin Public Television installs Calrec Zeta console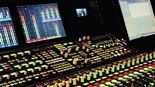 Wisconsin Public Television (WPT) has installed a Calrec Audio Zeta console and a Hydra networking system as part of a digital upgrade of its facilities in Madison.
The Calrec console is currently at work in a temporary space, awaiting renovation of its permanent home. Eventually, the console will be used in two HD studios linked by the Hydra network, which also adds I/O capacity.
The capabilities of the Zeta will simplify production of locally produced digital programming, including "The 30-Minute Music Hour" on the broadcaster's new digital Wisconsin Channel.
For more information, visit www.calrec.com.