Sigma debuts OctaStream DTV audio management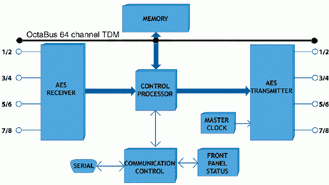 The OctaStream line consists of the DA5320 Mixer & Subframe Router, the DA5315 Variable Delay Compensator, the DA5325 Sample Rate Converter and the SG5605 Audio Reference Generator.

Sigma Electronics has identified an opportunity to help broadcasters create eight-channel audio infrastructures necessary for DTV audio. At NAB2003 the company will show its new OctaStream family of AES digital audio signal management products, designed to address timing, mixing and synchronizing issues associated with the integration of AES and multichannel digital audio into a DTV stream.
Nigel Spratling, president of Sigma Electronics, said Sigma will also show a new patent-pending system for adding audio time code to a file, enabling audio engineers to correct lip-synch and other errors anywhere within a stream.
The OctaStream line consists of the DA5320 Mixer & Subframe Router, the DA5315 Variable Delay Compensator, the DA5325 Sample Rate Converter and the SG5605 Audio Reference Generator. The product line is modular, allowing customers to add single modules to a basic frame as the need arises. Nvision manufactures Sigma's S5000 hot-swappable signal management frame. Spratling served as vice president of technology for Nvision, many years prior to joining Sigma.
The frame — which emphasizes ease of maintenance and error diagnosis capability — holds up to 10 modules, each with 10 connectors and allows module status indicators to be viewable behind a closed door. It leverages a Time Division Multiplexing (TDM) OctaBus module for shared processing power, "silent switching," channel swapping and redundant power supplies for system reliability. These modules can be controlled via a number of control panel options.
Spratling said broadcasters will face many technical issues associated with the broadcast transition to digital audio and need eight channel capability to accommodate 5.1 Dolby Digital and a stereo pair to address legacy analog TVs. Among them is the fact that the timing relationship between digital video and audio often causes the most problems. Also, he added, there are questions of how stations will manage, manipulate and deliver audio on a digital multichannel stream.
The OctaStream product family includes:
DA5320 — Mixer & subframe router offers timing, mixing and synchronizing solutions for eight individual audio channels from four AES input streams. The unit derives its timing reference from AES input 1/2.
DA5315 — Variable delay compensator sets variable delay up to ten seconds for each of four independent AES signals on eight channels. It is designed to compensate for inherent latency challenges with the video path, and allows delay to be selected in units of seconds or NTSC/PAL frames.
DA5325 — Sample rate converter serves as the audio equivalent of a video frame synchronizer. The module is designed to re-time four asynchronous AES inputs to a local reference while maintaining phase. It allows selectable conversion of sample rates from 28-108 kHz to 44.1 kHz, 48 kHz, 88.2 kHz, 96 kHz or can be steered by an external reference.
SG5605 — Audio reference generator introduces a method of tracking audio channels by generating AES tone/silence with eight audible channel identifiers. It can operate as a stand-alone reference generator, or it may be locked to a master video reference for complete system synchronization. The unit is capable of generating simultaneous outputs of tone and silence, and features a user-selectable ID timing period that can be turned on or off on a channel by channel basis at the user's discretion.
The new "sensible time code" method Sigma will show in its exhibit booth enables users to bring their audio signals back in phase or in line with the video when errors occur. This time code will be compatible with any piece audio gear, anywhere in the world, according to Spratling, and, once the patent is approved, Sigma will offer free licensing. The idea is to expand the Sigma brand name.
For more information visit www.sigmaelectronics.com.
The latest product and technology information
Future US's leading brands bring the most important, up-to-date information right to your inbox