NFL telecast shows potential of 3-D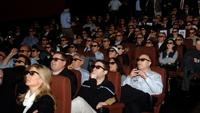 A recent experimental telecast of a live NFL football game in 3-D illustrated the lengths that sports leagues are willing to go to keep fans interested. While the result was impressive — if a bit technically challenged — they achieved their goal of presenting sports programming in a new and unique way that can't currently be experienced at home. Creating excitement is the name of the game.
A company called 3Ality, in Burbank, CA, provided the camera rigs and special processing software to broadcast a game on Dec. 4 between the San Diego Chargers and Oakland Raiders. The milestone telecast was produced on-site in San Diego using a Cross Creek Television production truck (HD8) with standard 2-D HD technology and transmitted via satellite to theaters in Boston, Los Angeles and New York.
Howard Postley, chief technical officer and COO of 3Ality, said the idea was to show that 3-D could be broadcast with existing technology, while keeping production and transmission costs down. That's because cost — and the lack of receivers in the home that can correctly display the latest generation of 3-D — is the biggest hurdle right now.
In many respects, the issues surrounding 3-D in sports have not changed that much. Steven Sabol, co-founder and president of NFL Films, recalls shooting the Super Bowl in 2005 with two film cameras shooting simultaneously.
He said it costs about $10-$20 million to produce and display one hour of 3-D footage on 35mm film. Every year, NFL Films (which Steven started with his father Ed and is now owned by the NFL) shoots more film than all the Hollywood studios combined.
"3-D has always been intriguing to the league and fans," Sabol said, adding that NFL teams were interested in using the technology for their internal training, "but it's difficult to do. The cameras were way too cumbersome, and production costs way too much to make a business out of it. In the early days of any new technology, money remains the issue."
Yet, while cost has always been the biggest limitation to 3-D, producers of the latest stereoscopic technology — including 3Ality and Pace Technologies (also in Burbank), which has provided footage of both NFL and NBA games in 3-D — seem to be eager to get the technology into the mainstream as soon as possible. Some predict it's at least five years away.
The NFL game saw 3Ality using Sony and other HD cameras configured in pairs, side-by-side, to capture the action in 3-D. At San Diego's QUALCOMM Stadium, eight camera positions (two cameras each) were set up — three on the field, low and high end zones, the announcer booth and two wide-angle views — to capture the live action in full 3-D. Some used a special beam splitter that separated the image into two halves. This signal was taken out of the camera and compressed in the production truck — where it was handled by a Grass Valley Kalypso HD switcher and an EVS server (for replays) and sent via satellite as a 2-D signal to conserve bandwidth.
Thomson's Technicolor Digital Cinema facility in Burbank processed the transmission then sent it along to the three theaters for display on a large screen provided by RealD 3D ( out of Beverly Hills, CA). At each theater, RealD used NEC projectors fitted with a special polarizing filter, and audience members wore special polarizing glasses to get the full 3-D effect.
Technicolor Digital Cinema provided transmission services to the theaters using its Technicolor Live theatrical solution technology, which was jointly developed by Grass Valley and Premier Retail Networks (PRN, a division of Technicolor). It featured Grass Valley's MediaEdge IPTV encoders, streaming engine and set-top boxes, which were all used to distribute the 3-D video and play it out at the theaters via an IP architecture.
The advanced digital cinema system included system design, management and bandwidth services from ScreenVision, a provider of cinema advertising content, using PRN's video network manager software to provide scheduling and control functions. Several Grass Valley MediaEdge IPTV-based set-top boxes were deployed for playout at the theaters on Samsung televisions capable of receiving and displaying 3-D content.
One could nitpick the 3-D telecast because it suffered a few technical problems, due to the immature nature of the technology and the challenge of live IP signal distribution. At times, the telecast went black from lack of signal, and some of the 3-D imagery appeared blurry and out of synch (which several knowledgeable audience members attributed to too much compression). In addition, a handheld version of the dual-camera rig appeared heavy and tough for the operator to manage as he ran around the field.
However, these same issues plagued early HD telecasts in the mid-'90s as well.
Representatives of the NFL said the telecast was a one-time experiment done to prove that the concept of 3-D sports was viable. Going forward, one idea is to present similar telecasts during the playoffs and Super Bowl in specially equipped 70mm IMAX and 3-D theaters.
For this observer, the technology showed huge potential and can only get better.
Have comments or questions about this article? Leave a comment below or visit our Forum to start a discussion.

The latest product and technology information
Future US's leading brands bring the most important, up-to-date information right to your inbox
Thank you for signing up to TV Tech. You will receive a verification email shortly.
There was a problem. Please refresh the page and try again.