Fujinon intros HD telephoto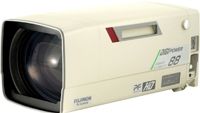 Designed for live sports and entertainment events, the new XA88x8.8BESM HD telephoto lens from Fujinon offers 88x magnification with a focal length of 8.8mm to 777mm telephoto. It's also available with Fujinon's patented Precision Focus Assist (PFA) technology, which facilitates accurate focusing during HD production.
The new lens, which offers Fujinon's DIGI POWER digital controls, is also compact, measuring 258mm x 270mm x 625mm — with the PFA attachment.
The ability to capture images under extreme low light conditions with the lens is assured with an F number of 1.7 from 8.8mm to 348mm, and it only drops to F3.8 at 777mm.
The HD telephoto is also equipped with Fujinon's exclusive GO-Technology, which improves image resolution and chromatic aberrations at all focal lengths. Multiple aspherical lens elements are incorporated, with three zoom groups, enabling optimal optical quality over the entire zoom range.
For more information, visit www.fujinonbroadcast.com.