Avid Deko shows support for 3-D formats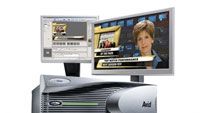 Avid Technology unveiled version 5.2 of its Deko 3000, an on-air graphics package that supports the industry-standard FBX and Collada formats. This enables users to import and playback a broader range of 3-D models and animations from applications such as Autodesk 3ds Max, Autodesk Softimage 7.5 and Maxon Cinema 4D.
Avid's users can leverage their existing skills and toolsets without having to burden the staff with learning new 3-D tools. For broadcasters, the opening of Deko expands the talent pool they can draw from when it comes to finding qualified 3-D artists.
With the updated technology, customers import models from 3-D creation systems into Deko and combine the models with live and editable text and image layers, which automatically map to the replaceable textures from the original. The model maintains specialized 3-D treatments for geometry, lighting and animation. It plays out as expected in the Deko environment.
Power Clips are mapped to 3-D models, enabling high-end visual effects like animating logos or headshots, without the need for costly third-party support to get them on the air. Deko version 5.2 will be available in June 2009 at Avid's download center.