National Association of Everything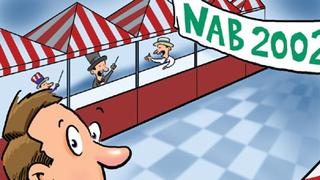 Are you planning to attend the National Association of Everything convention this April in Las Vegas, Nevada (USA)? It is really called the National Association of Broadcasters, but now I call it the NAE. The show is such a cobbled together arrangement of topics and technology that I would not be surprised to see lawn mowers on display. Here are a few examples of how the NAE has gone to extravagant lengths to retain attendance.
For sessions, we have some exciting "broadcast-related" subjects. Here are some of the topics/themes bannered as specially designed for the international attendee. First, there is Cross-Media Partnerships. I am not sure, but I think it is something about incompatible marriages. Then we have the Cyberjocking seminar. It probably has something to do with becoming an Internet DJ. NAE may try to compete with the city's marriage/sex business. It has arranged for a special swinging singles session for international attendees called Global Matchmaking. Come to the USA, and leave with a mate! What a deal.
At NAE's newest conference, Xstream, you will learn everything you need to know about the Internet, including how to build "The 80 Mile Per Gallon Carburetor." Don't believe me? Go see for yourself.
Then we have the New Media Professionals conference. On Tuesday, 9 April, you can attend the Capitalism session. Continuing our new media training, we can Learn to Sketch in Video on 9 April, too. Must be a basic art course for young children who do not have pencil and paper.
Not to leave the new media folks out, there is another one of those relationship classes, Strange Bedfellows. You will have to tell me what happens; I am afraid to attend. Do not miss the keynote session at 10.00. The speaker is supposed to teach you how UPnP will facilitate an ecosystem of networked devices in your home. If you are still awake when it is over, let me know what that means.
The sessions on satellite sound kind of fun to me because I am a runner. Maybe I will ask my friend and fellow marathoner, Bob Pank, to attend this one with me, From the Backbone to the Last-Mile. Must be a chiropractic clinic for runners. Bob and I then will jog over to Playing Monopoly and pick up tips in that session. The last session in the satellite conference, Bursting Bubbles, Sagging Sales, Mythical Gluts, should be a real trip. Probably similar to the Monopoly session, only this time using a Ouije board.
The exhibit halls show is just as schizophrenic. Despite the additional 91,000 square meters of exhibition space in the new South hall, you still will have to venture by bus over to the Sands exhibition area. Add to this the e•topia, mobile media, interactive living, digital cinema, multimedia and Internet/streaming halls — all in addition to the regular radio/audio hall, three TV/video film halls (including one in the Sands) and the satellite/telecommunications areas. Are you confused yet?
All these changes and diluted focus remind me of previous NABs where exhibitors included luggage and jewelry dealers. Giving this year's plethora of sessions and exhibits, what's next? The Vegamatic and Gingsu knives?
Just because NAB can get someone to buy space does not mean it ought to sell it to them. This show is starting to smell like a flea market.
Send comments to: • direct:editor@intertec.com • Web site:www.broadcastengineering.com
The latest product and technology information
Future US's leading brands bring the most important, up-to-date information right to your inbox
Thank you for signing up to TV Tech. You will receive a verification email shortly.
There was a problem. Please refresh the page and try again.